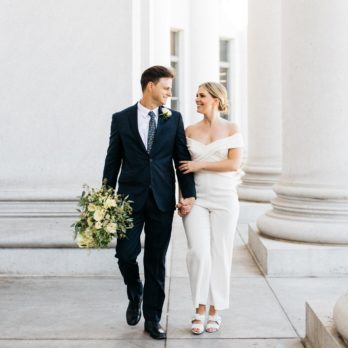 Caroline Creidenberg seeks a match for Wedfuly, her virtual wedding service, in Shark Tank episode 1306. Creidenberg started the business in 2017 as a virtual wedding service that helped couples plan weddings online to save money. When the wedding industry came to a screeching halt in March, 2020 due to the global Covid-19 pandemic, the company did a major pivot. Creindenberg and her team partnered with Zoom to offer virtual weddings!
On March 28, 2020, Wedfuly, along with their partners at Zoom, had their first virtual wedding service. The bride's father, who was not physically present, officiated the marriage. Since that wedding, the company has staged "hundreds" of virtual weddings. Typically, they have the bride and groom or a family member set up several smart phone cameras at different angles. The Wedfuly team produces the production remotely, or, for an extra charge, they'll send a  team member to the wedding site.
The company offers an initial free consultation. Fees range from $700-$2000, plus "extras." In addition to the actual wedding ceremony, each wedding has toasts, virtual reception tables, first dances, and group dance parties. You can add a virtual wedding procession. Wedding packages include 2 tripods, battery packs, an audio device that works for the venue and DJ setup. The company continues to offer "traditional" wedding planning, too. While the wedding business is getting back up and running as the pandemic winds down, some experts expect a trend of smaller, more intimate weddings with a virtual component. Caroline hopes that's true and that a Shark will want to come along for the ride.
Company Information
Video

Posts about Wedfuly on Shark Tank Blog
Wedfuly Shark Tank Recap
Caroline enters the Shark Tank seeking $200,000 for 5% of her company. The pitch starts off with Caroline talking about the beauty of weddings explains how the Covid-19 pandemic gave her the idea to start the business. She says even though the pandemic related lockdowns have loosened up, this type of wedding is not a fad. She has cake and champagne for the Sharks and they toast with Mr. Wonderful's now famous "Chevaliers du Teste vin!" Right after the toast, Daymond says he thinks people will want to get back to having real weddings and he goes out.
Mark speaks up and says the first ever live streamed wedding was his brother Brian's in 1998. Robert questions whether people will continue to use the service and she says her customers are different. She's done 700 wedding since March, 2020. Caroline is a software engineer who worked at a large financial institution where she was one of only 3 women in a department of 60. She started a wedding planning app to have a company that is more female – centric. 40% of her customers weren't planning a wedding at all. She then goes on to explain the process of booking and producing a wedding. The Sharks are amazed that Caroline and her team did 30 weddings in one day.
Mark wants to know if they are a data feeder company and Mr. Wonderful, who earlier said he would eviscerate Caroline, looks interested. She says they collect the names and emails of every wedding guest. in 2020, sales were $700,000 with $100,000 profit and in 2021 to date sales were $1 million with $300,000 profit. The average revenue per customer is $1500 with 75% profit. Kevin likes the data feeder angle and wants to cross sell with his other wedding related businesses. He offers $200,000 for 20%. Caroline counters with 10% and Kevin says no.
Lori says she loves the story and thinks Caroline is a good role model, but the business isn't right for her; she's out. Mark doesn't have ancillary businesses and doesn't think Caroline can scale the business; he's out. Robert loves the idea and offers $200,000 for 10%. Caroline accepts and says backstage Robert is the first male involved with the company.
Wedfuly Shark Tank Update
The Shark Tank Blog constantly provides updates and follow-ups about entrepreneurs who have appeared on the Shark Tank TV show. The day after the show originally aired, Caroline and her team announced they were offering info sessions all weekend long. In an interview with the Denver University Clarion (Caroline's alma mater), she said: "I think having someone like Robert who has been at it and seen so many companies is going to be super powerful for mentorship and advising me on kind of those big decisions on the company and my life as an entrepreneur and businesswoman." It looks like the deal is moving forward.
As of February, 2023, the deal with Robert has not closed and likely won't.
This page will be updated as new information on Caroline Creidenberg & Wedfuly becomes available.