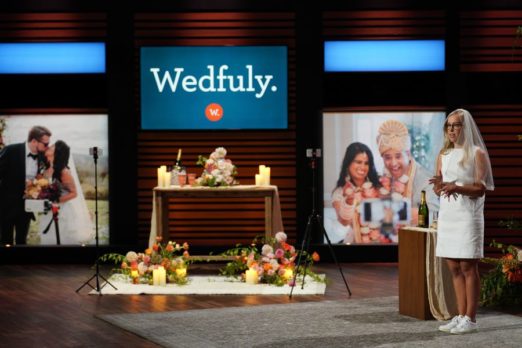 When Caroline Creidenberg started Wedfuly, virtual weddings weren't a thing. But with the year we had in 2020, they quickly became one. Imagine you planned a June wedding in 2020. You had to completely scrap your plans and postpone the wedding until the Covid-19 pandemic subsided or pivot and get creative. Creidenberg and her team did that. They started the business as an online wedding planning company focused on finding value solutions for their clients. When the pandemic hit, they created a whole new wedding category: virtual weddings.
When it became apparent weddings were not going to happen, they reached out to Zoom and partnered with the platform to offer their newly created service. On March 28, 2020, they orchestrated one of the the very first virtual weddings. Since that day, they've performed hundreds of weddings virtually. The cost is anywhere from $700-$2000 depending on what the bride and groom want.
Essentially, it works like a Zoom meeting. The bride and groom provide two camera phones and set them up on tripods provided by Wedfuly. The Wedfuly team then instructs the on-site coordinator (either a family member or friend or Wedfuly staff) where to move the cameras for different parts of the wedding. The whole thing is "directed" remotely from Wedfuly HQ in Denver. Virtual guests can view the procession, ceremony, toasts, dances and more on their Zoom screens. Whether this type of wedding dies out with the pandemic remains to be seen. Will a Shark want to enter a business marriage with Wedfully?
My Take on Virtual Weddings
This idea was definitely an idea for the times. The wedding industry was totally devastated by the pandemic, but people sometimes can't postpone life plans and this was a creative workaround. It's kind of like having a wedding videographer that's beaming the experience to a live audience. I don't think it would be my cup of tea because I HATE Zoom calls, but I don't plan on getting married again. My current marriage is just fine.
My oldest daughter got married a little over four years ago. The wedding was on my parents' lawn as was the reception. It was a smallish affair with about 120 people. The food was beef, vegetarian and seafood paella, my daughter's choice. She and her husband didn't want an outlandish wedding and this is a growing trend among the younger generation. Smaller simpler weddings are what they want. Some wedding experts think there will be a virtual aspect to all future weddings as a way to save money for both married couple and their guests.
Will Sharks Wed this Deal?
Since this is such a new and unique business, the Sharks will want to know the numbers – and they better be good. The biggest objection Caroline will face is virtual weddings will die with the virus. She'll need to demonstrate that this type of service will be needed (and wanted) in a post Covid era.
The only Shark I can see bidding on this is Mr. Wonderful. He's famously built up a successful wedding business with a whole stable of products centered around weddings. If Caroline can convince him this service won't go away, he may bid. Sine the company is already into online wedding planning, that could have value for Kevin too. It's either Kevin or no deal, I think.