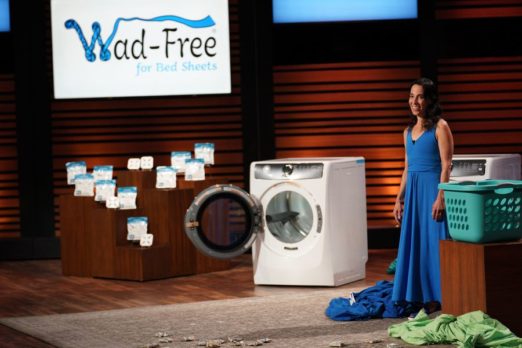 Cyndi Bray invented Wad Free to solve a problem that was driving her nuts: sheets wadding up in the washer and dryer. Not only is it a mess, it wastes energy. When wet, wadded up sheets are in the dryer, they take much longer to dry, thus wasting electricity. The mess is another story – de-wadding sheets is a pain in the neck. Sheets that wad up  in the washer will often throw it off balance, too.  So what does a self respecting entrepreneur do when they see a problem? They solve it.
Cyndi set her sights on solving this problem and literally taught herself CAD and physics. She also has a patent issued for Wad-Free. When she started researching and designing in April, 2019, she had no idea what was in store for her product. After a bunch of tries, she found a prototype that worked and got ready to launch her product in June of 2020 – smack dab in the middle of the Covid-19 pandemic!
The key word for businesses in 2020 was "pivot" and pivot she did. Of course she experienced all the setbacks of the pandemic: manufacturing slowdowns, supply chain issues, the inability to get on store shelves and more. During the lock down, she made videos, built a website and started hustling on social media. One big breakthrough came when she got on The Grommet and was a top seller. When she pitches Wad Free in Shark Tank episode 1306, she'll likely want help getting into retail. Will the Sharks want to tangle with Cyndi?
My Take on Wad Free
Everyone in our house does their own laundry with one exception: the sheets. In fact, my wife and I just washed the sheets two days before I wrote this post. They were wadded up. Usually, the sheets are in the wash by themselves, but this time there were other items that were trapped in the big wad.
As we were untangling everything, I told my wife about the Wad-Free. She was curious, so I showed her a couple of videos about it. She wants one! I am going to get one for her Christmas stocking and one for my daughter and her husband who just bought a house. I am IN!
Will Sharks Spend a Wad of Cash on this Product?
My guess is this is going to cause a bidding war. The problem of wadded up laundry is so ubiquitous, every Shark will identify with it. The issued patent is big too. If she comes in with a good valuation, expect some fireworks. The only Shark who may not bid is Mark because "it's a product, not a business."
All the others will be in. Barbara will say she's a good partner for this type of product. Kevin will undoubtedly offer up some sort of royalty deal and Daymond will want in on the action too. Lori is the Shark for this product though. It has her "hero" characteristics: inexpensive, easily demonstrated, mass appeal. Expect Lori to bid hard for this product and win the day.