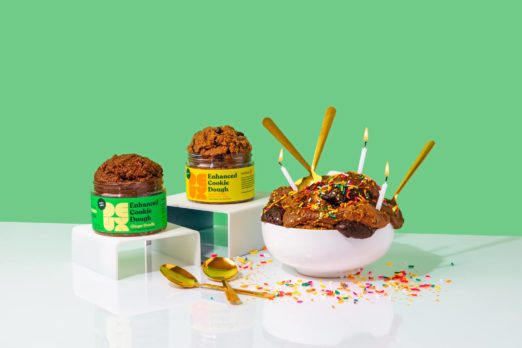 Sabeena Ladha created Deux (pronounced "dough"), her line of vegan cookie dough, as a delivery mechanism for the supplements she was taking. She wished aloud to her friend "wouldn't it be nice if I could have all my supplements in a cookie?" When she went looking around for cookies with vitamins in them and found none, she created the gluten free, vegan cookie dough. For the supplement end of things, they engaged the help of a naturopathic doctor. They handled the flavor end of things.
Deux's ride was meteoric. Sabeena decided she would make up a bunch of their cookie dough and sell it on Instagram as a side hustle. she started in the first week of October, 2020 and set a sales goal for that point until the end of December. When she hit the sales goal in one week, she quit her job and went all in. Sabeena has a background in the venture capital world and she has a lot of experience working with food brands as well, so she had the chops to get the company started.
Growing Pains
With the rapid growth of the vegan cookie dough business came challenges. They had problems keeping up with demand at the beginning. The balancing act of managing online sales while pursuing shelf space in super markets proved to be a challenge too. But they got through it, now Deux Vegan Cookie Dough is Erewhon's number one selling dessert. A 12 ounce jar is $15 and comes in sugar and spice, gingerbread, pumpkin spice, birthday cake, chocolate chip, brownie batter, and peanut butter flavors.
You can eat the dough right out of the jar or bake them into cookies. Each jar makes 12 cookies. The different flavors have different supplements. For instance, chocolate chip has Zinc and Elderberry for immune system support, birthday cake has Maca for mood boost etc. They also developed a vegan alternative to Nutella called Drip. They likely want a Shark to help them get into more grocery stores. Do Sharks like cookie dough?
My Take on Deux Vegan Cookie Dough
I admit, I love cookie dough. When I was a kid, I'd mix up a batch and eat it raw – eggs and all. Those days are long gone, but every once in a while my daughter will make a batch of (eggless) cookie dough and I'll have a bite or two. The idea of a lower calorie, healthy cookie dough appeals to me and I would love to try it.
As a business, this woman seems to have things moving quickly. To go from selling on Instagram to being on grocery store shelves is a testament to her grit and determination. Not many food companies come in the Tank with such meteoric growth, so their story should impress the Sharks as much as it does me. I'm in.
Will Sharks Like This Dough?
There were a few other cookie dough companies in the tank in the past. The Cookie Dough Café did a deal with Lori Grenier and Steve Tisch back in season 5. That deal fell through, but the business went on to have tremendous success. Doughp was another company in the Tank in season 10 and left with no deal. That company is doing well too. Both these companies offer regular cookie dough though, not vegan cookie dough. That's what makes Deux different.
As for whether the Sharks bid or not, it may be a moot point. In June 2021, the company did a $1 million seed round with investors including the CEO of Erewhon. That would be right around the time they were taping – either just before or just after. Even if a Shark does bid, the deal will likely not close due to a likely less "sharky" group of investors. I can see either Lori or Mark investing in this as they've both shown an interest in healthy food products. The question is, will the deal stick?