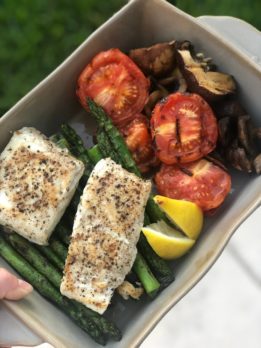 Fish Fix, Melissa Harrington and Emily Castro's frozen fish subscription box, was born out of Melissa's desire to eat fish twice a week. Since she was a mother of two and salesperson for a seafood company, it wasn't always convenient to make fish, so she started vacuum packing servings of fish and freezing them. If she wanted fish, she could quickly and conveniently defrost and cook it. She was sharing this information with her friend Emily when a collective entrepreneurial lightbulb clicked on. They decided they'd start a business that delivered high quality, flash frozen seafood to home owners for convenient fish meals.
The American Heart Association says eating fish twice a week reduces the risk of heart attacks and strokes, largely due to the omega-3 fatty acids found in fish. Unfortunately, unless you cook fresh fish the same day you buy or catch it, it gets "fishy." That's why flash frozen fish is a good alternative. Melissa and Emily figured if they could make it easy to have people eat fish twice a week, they'd be on to something.
The food delivery/subscription box idea is not new by any stretch of the imagination, these women are just putting a pescatarian spin on it. For $149 they pick two 6 ounce portions of 8 varieties of fish and ship it to you. For an extra ten bucks, you can pick your fish. The kinds of fish available vary with the seasons. They also have a fish cakes and crab cakes box and spices. Every Fish Fix package comes with thawing instructions and recipe suggestions. These women know Sharks like fish, but will they hook one.
My Take on Fish Fix
I LOVE fish and would eat it more often, but my wife isn't too crazy about it. I do a lot of fishing and when we have fish, I usually caught it myself. This past summer, I went on a charter fishing trip and loaded my freezer with about 30 pounds of red grouper, mangrove snapper and American red snapper. We ate a lot of fish this summer. My wife likes her fish fried with a special sauce I make called "Kim Sauce." The sauce is honey, lime juice, mayonnaise, siracha sauce and my special spice blend.
Sometimes I'll go to the fish market around the corner and get tuna or swordfish steaks for the grill too. She likes those fish. HATES salmon though. As for Fish Fix, it's not something I'd use. I'm not so busy that I can't plan a fish dinner and, like I said, I catch my own. If I lived inland and not on the ocean, I'd probably give it a try. I wish them well.
Will Sharks Eat This Fish?
Subscription box services and food businesses like this have done well in the Tank over the years. Mark invested in Echo Valley Meats in season six. Jamie Siminoff invested in Moink, a sustainable meat subscription box service, in season 10 and that business has done well. Mr. Wonderful's Plated was the most successful of all, they sold the company for $300,000,000 in 2017!
There is precedent for this kind of business. The key factor is customer acquisition cost. If that number is solid, they'll field an offer or two. Mark will likely bow out due to conflicts of interest. Kevin will bid if the numbers are right; expect a royalty offer. Nirav Tolia was pretty  aggressive in his Shark Tank debut, so he could bid too as he has expertise in digital sales. Lori usually doesn't go for this type of business. Robert could go either way. I expect at least two offers, but only if they have their customer acquisition numbers buttoned up tight. If they don't, they'll leave without a deal.