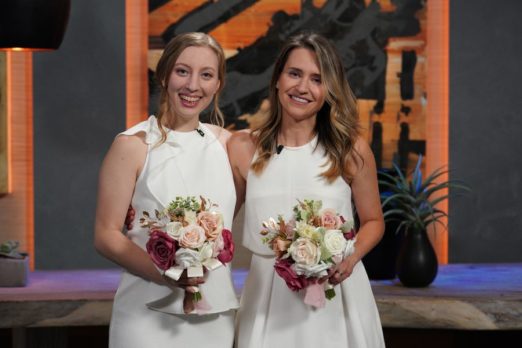 Julia Rogers, a practicing family law attorney in Boston, created Hello Pre-Nup to make prenuptial agreements accessible and less uncomfortable for soon to be married couples. Her CTO, Sarabeth Jaffe, joins her in the Shark Tank as they seek to persuade the Sharks to invest in their business. As a family law attorney, Rogers has experience dealing with divorces all the time. She believes a well crafted prenuptial agreement is an important first step on the road to marriage.
Pre-nups, she thinks, gets couples on the same page about things before they tie the knot, which she believes is healthy for the relationship. By getting things out in the open ahead of time, it can save and even prevent a lot of heartache in the future. Women in particular, she believes need pre-nups since they typically earn less than men and the financial devastation of a divorce can be life changing.
By using the Hello PreNup platform, a lot of the uncomfortable stuff surrounding crafting a prenuptial agreement is avoided. There are no uncomfortable meetings with lawyers because it's done online. The couple simply inputs their income, property and assets, then answers a series of questions that identify any inconsistencies. This allows for open communication, something Rogers says is important throughout the process. Once the online input is complete, Hello Pre-Nup sends copies of the finished agreement to the couple for signature. At $599 it's a lot cheaper than hiring an attorney, but couples are free to have their own attorney review the finished document. They're hoping a Shark will see value in their business and enter into a business marriage with them.
My Take On Hello Pre-Nup
I have been happily married to my second wife for almost twenty years. They say a successful second marriage is the triumph of hope over experience. I do not currently have a prenuptial agreement, but I wish I had one for the first marriage. That was a messy divorce which, thankfully, is well behind me. I have no more support child support obligations and rarely even speak to my ex wife.
I think this is a good concept. People can get touchy about prenuptial agreements and this seems a less threatening way to go about creating one. Like I said, I wish I had one for my first marriage. The only ones who won there were the lawyers. It cost me a small fortune. Like the old saying goes: "it's cheaper to keep her." I'm in.
Will Sharks Want to Enter Into an Agreement?
This one is a tough call. Certainly Robert has had some recent experience with divorce, so he may be familiar with the concept. All the other Sharks on tonight's panel are (currently) happily married. I wonder if any of them have pre-nups? Their wealth would certainly justify it.
I don't know if Lori could go for this or not. She might if Rogers and Jaffe strike a chord with the women's empowerment angle. Any of the other Sharks could go for this since it's really a digital marketing play. That said, digital marketing always comes down to customer acquisition cost. If those numbers work, I expect Kevin to make an offer.  It would fit in with his wedding businesses. Mark, Nirav and Robert may bid too, but if the numbers work, Kevin will definitely make an offer.