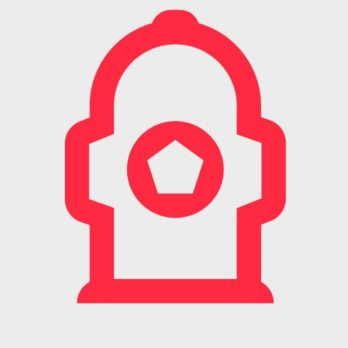 Dave Heimbuch created his Hidrent App to help off duty firefighters earn extra money. It's basically a niche gig app. There are others out there, but this one has a unique twist: only actively working firefighters can provide services to homeowners. This can put homeowners at ease because firefighters go through a far more rigorous background check before they are hired than your typical gig app. How many horror stories have you heard about an unvetted Uber driver assaulting a passenger? Would you want someone like that in your home? I think not. With the Hidrent App, you know you not only have a well vetted individual in your home, but a person who has dedicated their life to helping people. Since there are a lot of scammers in the $600 billion home services industry, people want to know they can trust whoever they let into their home and firefighters are considered trustworthy by 94% of the population.
Hidrent verifies that their service providers are actively working. Since firefighters usually work on a two or three day on and a three or four day off schedule, they have spare time to earn spare money. It works like other apps in this space. A homeowner tells the app what kind of task they want done and the firefighter signs in whenever they want to accept or decline tasks. The homeowner pays the through the app and Hidrent takes 20%. The rest goes to the firefighter.
Tasks include gutter cleaning, general handyman services, hanging TVs, hauling stuff, furniture assembly and more. Heimbuch, who has a background in tech sales, started the company in 2017. They have around 36,000 downloads and 4000 firefighters who downloaded the app. To date, the app has matched and completed 1600 jobs. The company saw a 233% increase in business during the Covid-19 pandemic. Since they're only in Texas now, there is a lot of room for expansion. Lifetime revenue is $300,000, but Heimbuch wants to  expand to all 50 states. He  raised $99,698 on Republic in January, 2021 to help fuel that expansion. Now, he'd like a Shark to join him in growing the business.
My Take on the Hidrent App
I have some firefighter friends. They're all good guys that would give you the shirt off their backs. All the guys I know have side businesses. One guy does landscaping, another does handyman services, one cleans carpets and another has a painting business. The Hidrent App is like having a side business without the hassle of running a business. I asked one of the guys I know (the painter) what he thought of this app and he said it was a good idea.
People like firefighters too. All the guys I know are good guys, in fact I never met a firefighter that was a jerk. This is why this is such a good idea. I'm not a customer (yet) as I do pretty much all of my own home repairs and things the app offer. As I get older, I may use something like this. I see this as a good tool for older people who are often victimized by scammers. They can get their tasks done by someone who won't rip them off. I'm in.
Will Sharks Fire Up a Deal?
Apps are usually a tough sell in the Shark Tank, especially when they are still not making a lot of revenue. The way Hidrent becomes huge is by scaling to every state in the USA. That isn't going to happen overnight, even with a Shark's help. That said, there are a couple of Sharks that could really help them do it.
Nirav Tolia would be a good Shark for this business. He's built tech platforms that have done very well. Mark would also be a good partner. The problem Heimbuch might face is that he's "too early." Unless he really wows the Sharks, he may not be able to overcome that objection.