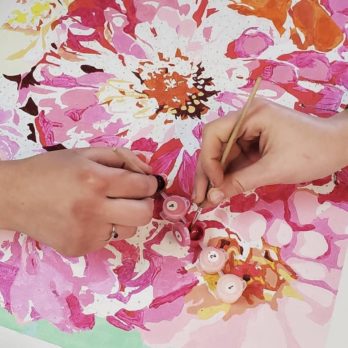 Ashley and Brittany Silfies created Pink Picasso Kits, their paint by numbers kits for adults, as a spin-off of their other successful business, Modern Monet Kits. Once completed, it looks as if Picasso (or Monet) painted the picture. The kits are an expansion on adult coloring books which were all the rage a few years back. Started in 2019, they caught the attention of Oprah and she listed it as one of her favorite things that same year. The company saw explosive growth in 2020 as people sought new ways to entertain themselves during the Covid-19 pandemic induced lockdowns.
At $42 a pop, they're definitely NOT your kids' paint by numbers kits. They do offer kids kits for $28. The designs are meant to be not only a way to calmly spend 10-12 hours, the average time to complete a painting, they're meant to be beautiful keepsakes worthy of displaying in your home. The kits contain a photograph, numbered paints, a map of the numbers and a canvas printed with the numbers on it.  When yo match the paint numbers to the number on the canvas you'll end up with a "Picasso-ized" painted replica of the photograph.
They sell the kits on their website, Amazon and in hundreds of mom and pop arts and crafts stores. To really blow the company up, they need to get into the Michael's and Hobby Lobbies of the world. A Shark could definitely help with that.  Do Sharks like to paint?
My Take on Pink Picasso Kits
When I was about 10 years old, my Uncle owned an arts and crafts store. He was always bringing my brother and I samples of the various products he sold in his store. More than one paint by number kits came to us that way. Remember, this was before cable TV and video games, so on a rainy day, a paint by number kit was a cool way to pass the time. I kept one painting all through my adulthood and tossed it when we moved to Florida because it got a little moldy.
These actually look really cool. My daughter is a very talented artist but she didn't get it from me. I need a paint by number kit to paint something that looks nice! This would make a great Christmas gift for anyone in my family, so somebody might be getting one. Maybe Santa will bring one for dad too. I'm in.
Do Sharks Like to Paint?
I don't recall a company like this one ever being in the Tank. The closest I can think of was season 12's Jiggy, the custom jigsaw puzzle company with original art on them from New York City female artists. Mark and Kaylin Marcotte struck a deal on the air, but it never closed.
That's the only precedent I have for Pink Picasso. I think Lori would be a good fit as she has lots of national retail chain connections. Robert would only be interested if they only sold online; he likes direct to consumer companies. Mark could bid too as he was interested in the aforementioned Jiggy. Mr. Wonderful will likely concoct a royalty offer; his season 13 royalty offers have been very creative. Nirav Tolia is a wild card; he may make an offer to bring value to the digital marketing side of the business. I just don't have a gut feeling on this one.