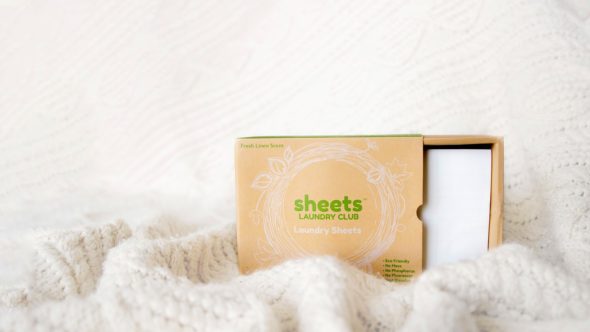 Chris Videau started Sheets Laundry Club after being discharged from the military to help combat the plastic wastes problem we have here on Planet Earth. He saw a lot of plastic waste on his tours of duty and even experienced the choking smoke of plastic burn pits. He wanted to do something about it, so he set his sights on laundry detergent. Most liquid laundry detergent comes in high density polyethylene jugs and nearly 70% of them are never recycled. Laundry detergent was a good jumping off point.
One sheet contains enough detergent for a load of laundry. A 50 pack is $19.99, or about 50 cents per load of laundry. If you opt in to the subscription service, that 50 pack drops to $13.99 or about 28 cents per load. The laundry sheets – and all their other products – come in biodegradable packaging and the sheets are septic system safe. Other products include scent boosters, dryer sheets, stain fighter packs, dishwasher detergent, liquid soap starter, floor cleaner sheets, coconut scrubbers, deodorant and soaps.
Sheets Laundry Club products are all made in the USA. The ingredients are safe for sensitive skin. Ingredients include coconut oil, polyvinyl alcohol and essential oil fragrances. Videau and co-founder Chris Campbell wanted to offer laundry and cleaning products without any plastic or harsh chemicals. They'll pitch the Sharks on their business and vision in Shark Tank episode 1307. Will the Sharks clean up on this deal?
My Take on Sheets Laundry Club
This is the second company with the mission of reducing plastic waste to appear in Shark Tank season 13. Plastic waste is a big problem, leave it to entrepreneurs to do something about it. As an avid fisherman, I cannot stand the amount of plastic waste I encounter on the water. I applaud companies making positive steps toward eliminating it.
As for the product itself, laundry is not my thing. I take care of the food shopping and cooking and my wife takes care of the laundry. She'll try anything once and if she likes it, she'll stick with it. When I told her about this company, she ordered some from Amazon right from her phone. If she likes it, it will become part of our household's laundry routine for years to come.
Will Sharks Clean up on this Deal?
Earlier in season 13, IncrEDIBLE Eats caused a Shark fight. The Sharks liked both the product and the similar mission to reduce plastic waste. It was a smart, simple, elegant (and tasty) solution to the plastic waste problem entrepreneur Dinesh Tadepalli was seeking to solve. Sheets Laundry Club, while not offering an edible solution, is equally smart simple and elegant. The Sharks will like that.
Unlike IncrEDIBLE Eats, this business will likely have some sales. They've been in business since December 2019, a bit longer than Tadepalli has been open. If they don't ask for a ridiculous valuation, I expect all the Sharks to make offers. The only thing that could hurt them is there are about a half dozen other businesses that have similar, eco-friendly laundry products. If they get over that hump, I expect a Shark fight.