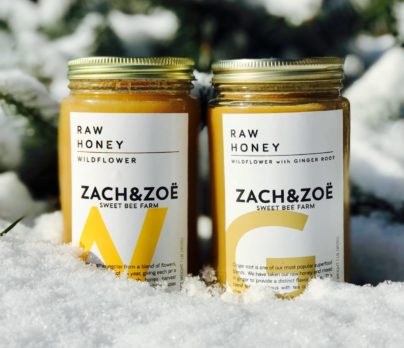 The Johnson family didn't originally set out to make Zach & Zoe Sweet Bee Farm into a business, they just wanted to escape city living for the countryside. Unfortunately, Zach developed severe allergies in the bucolic Kingwood Township countryside. His parents, Kam and Summer tried everything: allergy medicines, steroids, even a few trips to the emergency room. When Kam learned local raw honey could help build up immunity to allergies, he bought a bee hive and started making honey. A year later, Zach's allergies did not reappear. Since the honey is raw, it contains local pollen. When ingested, the body builds up immunity and it "cures" the allergies.
Summer was home schooling her kids and she seized the opportunity to teach them about bee keeping. As they got more and more bees and made more honey, they began giving it away to family and friends. Not long after that, they turned the fledgling enterprise into an exercise to teach the kids about business. They began selling at a local farmers market in 2016. In 2020, they got on Oprah's radar and made her "favorite things" list. Now, in 2021, they have customers all over the world.
All About Raw
All their honey is 100% organic, raw and unfiltered. Unfiltered honey means it's not not pasteurized or filtered which reduces the nutrients. Basically, filtered honey is just sweet syrup. If it were filtered, it wouldn't have helped with Zach's allergies. There are many flavors, some of which are seasonal like blueberry and pumpkin spice. Other flavors include lavender, lemon, beet root, Matcha, cranberry and coffee.
One pound jars range from $20-$25 depending on the flavor, which is not out of line with prices for premium honey. They sell at three farmer's markets, but the Covid-19 pandemic related lockdowns forced them to grow their online sales. You can purchase Zach & Zoe Sweet Bee Farm honey on their website and Amazon. They likely want a Shark's help getting on retail shelves and building out their production facility. Will a Shark Think this is a sweet deal?
My Take on Zach & Zoe Sweet Bee Farm
I love honey. We always have a jar in the house. I use it in BBQ sauces, honey mustard sauce and my famous "Kim Sauce" for fish. On Sunday, I have a piece of toast with honey. I always get raw honey. It's a little more expensive than the filtered stuff, but I think it's worth it. It's great in hot tea, too.
I also love the Johnson's story. They made a global business out of something they started to just help their son's suffering. They grew the hobby into a business organically, just like they grow their honey. I am definitely going to buy some when my current jar gets low (I just bought a two pound jar a few weeks ago). I am 100% IN.
Will Sharks Bee Investing in this Business?
The Sharks will like their story as much as I do. I'm sure they'll like the honey too. What they'll really want to see is sales. Oftentimes, when a product makes Oprah's Favorite Things list, there is an artificial spike in sales. Once the hysteria dies down, sustaining those sales can be challenging. Consistent growth in sales will be a key element of this pitch.
I don't think Mr. Wonderful makes an offer – he generally stays away from food products. Lori and Mark are into organic, healthy foods and both have made investments in the past. Mark even said whenever a food business comes into the Tank, the first thing he does is read the label. The wild cards here are Robert and Nirav. Both of them are into digital businesses. Robert doesn't like retail at all. If they want to stay 100% online, he'll make an offer, if the play is to get into retail, he's out. Nirav will likely have the same sentiments.
I expect offers from Mark and Lori for a couple of reasons. The first is the product itself; I think it will appeal to both of them. The second is Zach and Zoe themselves. Mark and Lori have a long history of investing in businesses with kids involved. Maybe they'll even team up.