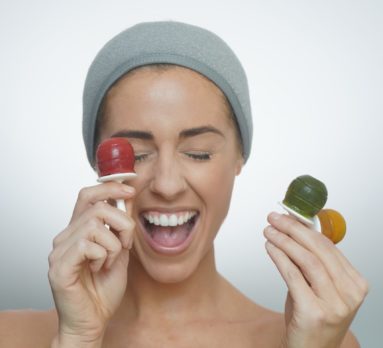 Love & Pebble co founder Lynda Truong suffered from bad acne as a teen. Since her family didn't have any money for extras like skin care, she began mixing up skin care remedies in the kitchen with readily available, all natural ingredients. It's something she's done since then and in 2018, she decided to make it a business. She owns an undisclosed business in Georgia (why she won't share it on LinkedIn is a mystery). In 2018, with the help of her pharmacist husband, Paul (who appears in the Shark Tank with her), she began experimenting with natural formulas to make her Beauty Pops Ice Mask Kits.
She began selling in 2020. The product that gets the most attention are the Beauty Ice Pops. They are formulated without any SLS phthalates, petrolatum, parabens, silicones, mineral oil, DEA, phosphates, PEGs, artificial dyes, synthetic fragrances, or formaldehydes. Active ingredients include banana powder fruit extract, papaya powder fruit extract, wild turmeric powder and organic aloe vera powder. Simply mix the powder with water and freeze in the beauty pops tray. Once frozen, you rub the pop on your face and as it melts, it forms a facial mask.
While facial masks aren't new, this is a novel way to apply the mask. The cold, frozen pops, besides making the mask, help tighten pores. I imagine they also feel really good on a hot day. Other products in the Love & Pebble line include facial serums and derma rollers – a rolling micro needling tool that makes controlled pinpoints and triggers your body's healing response resulting in healthier skin. Lynda and Paul likely want a Shark's help getting broader distribution and with digital marketing. Will a Shark make up a deal for this business?
My Take on Love & Pebble
I like facial masks. With four daughters, I've had my fair share. Every month or two, my wife and daughter will have "family facial mask night." We'll put whatever face mask product my daughter has on and take silly pictures. My skin always feels really good after the mask is removed. I think we may try Love and Pebble for a future night.
As for the business, it looks like they're still in start up phase. The origin of the name is cute too. Penguins present their mates with a pebble to "tie the knot." If accepted, they incorporate it into their nest. Penguins, after all, mate for life. She named it after this custom to "reflect love and loyalty" and says her products are "our pebble to you."
Will Sharks Love this Business?
Skin care products are hit and miss in the Shark Tank. A few weeks ago, 54 Thrones did a deal with Kevin and Nirav Tolia, but many skin care/cosmetic businesses have sank in the Tank in the past too. What it usually comes down to is two things: it's a very crowded field and often the entrepreneur has a skewed valuation. I don't think that's what sinks Love & Pebble though.
I think they are going to be "too early" for the Sharks. Even though the products are in Urban Outfitters and for sale on Amazon, I don't think they'll have a sound enough sales trajectory. 54 Thrones had several years of increasing sales and was going to do over $1 million in 2021. I just don't see those kind of numbers here which means the Sharks will likely pass, unless they do a real "Sharky" deal.