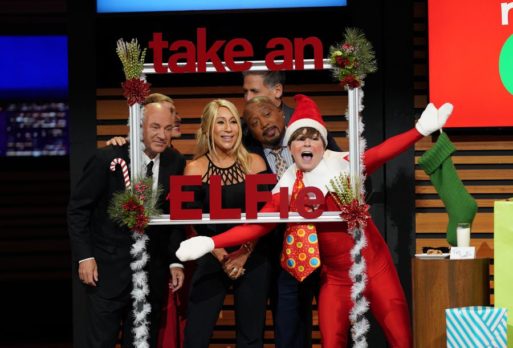 Tommy Holl, aka The Real Elf, took an off hand comment from a friend and turned it into a Christmas themed business. His friend told him he looked like the "Elf on a Shelf," so Tommy went out and got an elf suit to take a picture for a Christmas card. Now, people all over the greater Chicago area can take an "Elfie" with Tommy at one of his pop up events or at a private event he's booked for.
Tommy also visits a lot of cancer wards to spread some Christmas cheer. As a cancer survivor himself, he knows how important it is to keep spirits up, especially during the holiday season. His past experience with cancer also allows him to empathize with the kids he visits from his own battle with cancer.
Tommy has been doing his Real Elf schtick since 2012. He even appeared in the 2015 series Santas in the Barn, a short-lived (one season) TruTV reality show where top Santas competed to see who was number one. When he's not performing his elf duties, Tommy is the Chief Global Growth Officer at Publicis Media, a global digital ad agency.
The Real Elf is a business: he charges appearance fees, sells digital greetings called elf grams and elf related swag. If he's serious about growing it, he'll need more elves in every major metropolitan area. Whether he's legitimately interested in a Shark investment or was just chosen by producers for holiday entertainment value remains to be seen. The real question is, do Sharks like elves?
My Take on the Real Elf
Tommy is quite a character. I watched a few videos of his escapades and he takes his role over the top. He seems to enjoy what he does and he gains true satisfaction from working with cancer patients. Whether he makes any real money doesn't seem to concern him, he just relishes the role (and the attention).
If I were in Chicago at Christmas time and ran across him, I'd definitely take an Elfie with him. It's a fun thing to get you into the Christmas spirit. People seem to enjoy the concept too, as evidenced by the hundreds upon hundreds of elfies on his Facebook Page. I don't think there's much more than a fun side hustle here for Tommy, but I'm in anyway.
Will Sharks Take an Elfie?
As you can see by the photo, the Sharks do take an elfie with Tommy, but I don't think he gets an investment. The business is him and he is the business. The last time I checked, elves are not proprietary; anyone could duplicate this concept. I've seen elves and Santa on the Las Vegas Strip near Christmas, so Tommy isn't the only one doing photos with an elf. He just does it on a grander scale.
While I think the Sharks will find Tommy endearing and entertaining, I don't think anyone makes an offer. The fact that he has what appears to be a pretty solid full time job indicates that the business is really only good for about a month.