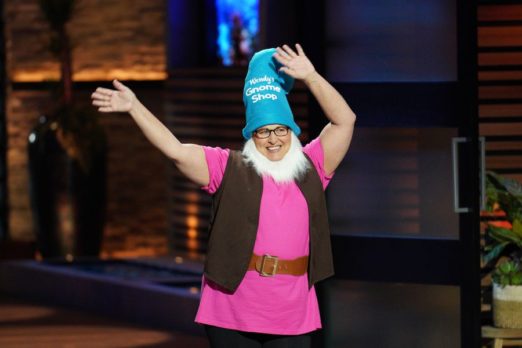 Wendy Hoffmeister started Wendy's Gnome Shop as a lark. She thought her designs were cute, so she decorated her house with them. Soon, friends and family were asking her to make them, so in 2019 she set up an Etsy shop to sell them. Soon a real website and social media accounts followed. By April, 2021, she was a full time Gnome artist. Her daughter, Amber, joined her shortly thereafter.
Both women have a background in nursing. Wendy was a traveling nurse for a time before specializing as a labor and delivery nurse. Amber was also a labor and delivery nurse. Making the switch to full time Gnome makers was an easy choice since she has solid sales. She claims her gnomes are in every state in the USA and in many foreign countries. She hopes a Shark will like her Gnomes when she pitches them in episode 1308, the Shark Tank Holiday Special.
Gnomes have been part of European folklore for centuries. They were usually depicted as gnarly old men who live beneath the earth to guard mines. They lived in the fields and forests alongside the more diminutive fairies. Other iterations of gnomes developed over the years, too. Garden gnomes became popular in the 1800's as a way to guard the garden from pests. Harry Potter's Gnomes were considered pests by the modern wizards. Many other fantasy works of fiction portray gnomes as harmless, but mischievous. Even J.R.R. Tolkien had gnomes battling goblins alongside Santa and his elves in The Father Christmas Letters which was originally written for his kids and posthumously released by his estate.
Wendy's Gnome Shop gnomes aren't at all sinister or ugly. They're hairy with big noses and their hats cover their eyes. The Gnome Shop sells gnomes for all occasions from Valentine's Day through Christmas. She'll even do custom Gnomes for an extra fee. She's currently working on a design your own gnome platform – something she hopes a Shark will help her with.
My Take on Wendy's Gnome Shop
I have to agree with Wendy, her Gnomes are cute. They'd make a cute holiday decoration. I can see my wife buying one, but I probably wouldn't. Not that I have anything against gnomes, It's just not the kind of thing I'd buy. Apparently, a lot of people like them – that's what landed her in the Tank.
She goes beyond holiday themed Gnomes, too. There's even a limited edition Shark Gnome on her website. Each gnome is $30-$35 and she has a 15% discount coupon to promote her Shark Tank appearance. No two gnomes are exactly alike, but I hope she has a lot in stock because I have a feeling the Gnomes will be flying out of the shop as cute holiday gifts.
Do Sharks Like Gnomes?
I can see Wendy getting an offer or two if her valuation isn't out of whack. I don't think Mark or Daymond will go for it, but the other three Sharks might. Lori could certainly help sell a crap ton of Gnomes on QVC if she likes the product. Barbara could help get the Gnomes into retail outlets too.
Mr. Wonderful is a likely bidder. The gnomes would be a good addition to his wedding platform he's always touting. Picture customized wedding gnomes as table decorations or gifts for the bridesmaids. If he likes the Gomes and the valuation, expect a royalty type offer from him.