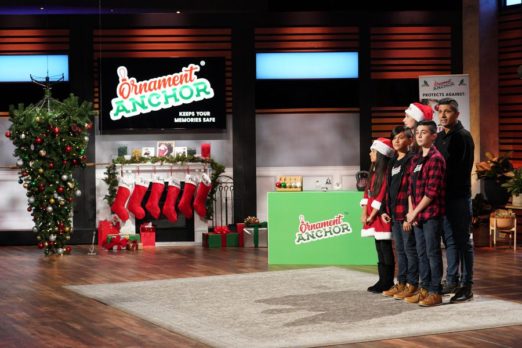 The Navqi family graces the Shark Tank for a second time when they pitch Mik'al and Ayaan's new invention, the Ornament Anchor. The family appeared in season 10 seeking a partner for KudoBanz, a "positive parenting" tool that had low lifetime sales when they pitched it. While the product, valuation and sales figures didn't impress the Sharks, Mik'al and Ayaan did. They were tenacious in defending their valuation, earning them respect from Mr. Wonderful and the other Sharks.
This time, they have better sales numbers for the Ornament Anchor. They also have more TV exposure: they appeared on QVC and Good Morning America in August, 2020. Since starting the business in early 2020, they did over $350,000 in sales their first year and contributed 10% ($20,000) of their profits to no kill animal shelters. If you do the math, they profited $200,000 on $350,000 in sales. That's 57% margins, a figure the Sharks are sure to love.
The Ornament Anchor is available at Target, Nordstrom, Dillards, Safeway, Bed Bath and Beyond and Amazon. It's basically a loop of coated wire with a toggle device. Feed the loop through the ornament's hole that would normally hold a hook and tighten it around the tree branch. This prevents the ornaments from slipping off the branch. The boys envisioned their invention after one of their favorite ornaments fell off their Christmas tree and broke. Since that day, they've plowed all their energy and free time into the business which was much more challenging when home schooling during the Covid-19 pandemic. While they struck out the first time in the Shark Tank, they're hoping the respect they got from the Sharks and their great sales numbers will land them a deal this time.
My Take on the Ornament Anchor
Our old house in Massachusetts had a two story cathedral ceiling. Our first Christmas in that house, we got a 16 foot Christmas tree! One morning after decorating the tree, our son came whizzing into the kitchen with a shocked look on his face and said, "the Christmas tree fell!" I said we'd be in the living room to fix it when we finished our coffee and he said "On Shelby!" We put down our coffee and dashed to the living room to see our huge tree toppled onto the couch. Beneath it we heard our then 4 year old daughter whimpering. We got her out from under it and, luckily, she was unhurt.
We did lose a fair amount of glass ornaments in that debacle. I'm not sure Ornament Anchors would have helped, but you never know. We never got a tree that big again. In fact, I had to saw it into pieces to get it out of the house! We have lost ornaments to accidents over the years which prompted me to buy a 48 pack of Ornament Anchors when I learned about them last summer while updating the KudoBanz page. My wife and I have some very sentimental, antique glass ornaments our grandmothers gave us. We lost some over the years and we'd like to preserve them from mishaps. We are definitely in!
Will Sharks Want to Hang with Mik'al and Ayaan?
I am predicting they get a deal this time. There might even be a Shark fight. Mark loves investing in sharp kids, even though he didn't buy in last time. With great sales and these kids' energy, he'll make an offer. Barbara could too, citing her ability to get products into retail. Look for a familial, Wicked Good Cupcakes type of royalty offer from Mr. Wonderful who will say they can afford a royalty due to their margins. Daymond will offer a licensing type deal.
The real Shark for these kids is Lori. She mat even be aware of the product since they were already on QVC. They could make a killing in sales on QVC the morning after this show airs. If she thinks it's a "hero," she'll bid hard. Like I said, look for a Shark fight!