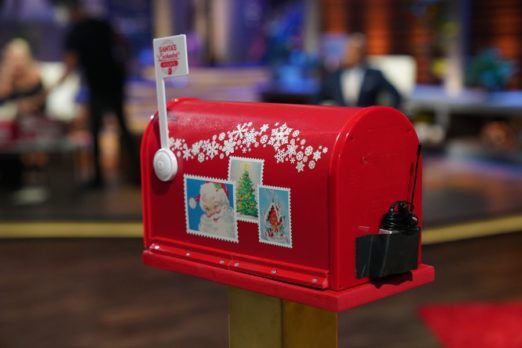 Chris and Elisa Cirri created Santa's Enchanted Mailbox from a family tradition. Their son, who was four at the time, would put pictures to send to Santa in a "magical" mailbox they made out of cardboard. Elisa would distract him while Chris snuck the pictures out of the box. Then, they'd open the box and reveal the picture had been "sent" to Santa. They loved the reaction and wondered if there was an actual product out there that made envelopes disappear.
When Chris couldn't find anything like that online, he called his father-in-law, Chris Seales, who is a retired engineer. He made a prototype the very next day. The Cirris tried the prototype out on their kids and they loved it. After 7 or 8 different prototype designs, they made a 3D printed prototype and pitched the idea to Mr. Christmas, a Christmas themed toy company that's been around since 1933. Eventually, they cut a licensing deal with Mr. Christmas and they sold millions of units. The licensing deal expired in 2020 and now the Cirris want a Shark's help making the Enchanted Mailbox on their own.
The Enchanted Mailboxes have shipped all over the world. In the USA, you can find them at Bed Bath and Beyond, Walmart, Hobby Lobby and Amazon. At $39.99 per mailbox, it's an economical way to start your own family tradition of "sending" letters to Santa. Chris is still employed full time, but he wants tomake this business his full time job. Perhaps a Shark can help.
My Take on Santa's Enchanted Mailbox
When we lived in Massachusetts, there was a local woman who took all the letters to Santa from the post office and reply to every one of them. She was featured in local news every holiday season. The letter were copies with some standard script about feeding the reindeer and making toys for Christmas, then she'd fill in the final paragraph with personalized text for each specific child. We got these letters for years.
While getting a letter from Santa is cool, magically mailing one is even cooler. Of course parents can write a reply from "Santa" or purchase a Letter from Santa. I totally get how Chris was mesmerized by the idea for this product. There's just something about the look on a kid's face when something magical happens at Christmas time. I sure miss those days.
Will Sharks be Enchanted?
I am a bit unsure on this one. Usually, a goal for a product like this for a Shark is to get the product licensed. The Cirris want to unlicense it and do it on their own. It's backwards from the normal routine in the Tank. Daymond is big on licensing, so I don't think he'll bid. It's counterintuitive to the way he does business. I think some of the other Sharks will share that sentiment.
Mark will call it a product, not a business. Barbara might make an offer, but it will be too "Sharky." Mr. Wonderful could do a royalty offer, but he's big on licensing too. Lori could be their best hope. This would be another good QVC product. It's easy to demonstrate, moderately priced and it appeals to anyone with kids in their life. We shall see.