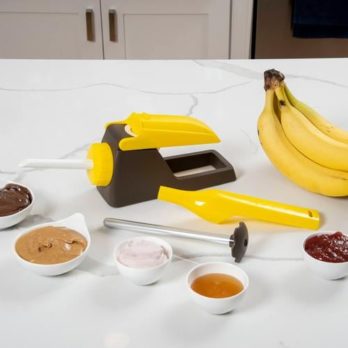 Renee Heath and Bechara Jaoudeh invented Banana Loca, their banana gadget that straightens and fills bananas, because they were reminiscing about eating bananas and Nutella. Bechara loved that combo as a kid and Renee said her nieces and nephews liked bananas and peanut butter. The friends liked checking out cool gadgets at trade shows and when they realized they didn't have a banana gadget that did what Banana Loca does, they invented it.
They made a bunch of 3D printed prototypes before they came up with the final design in 2019. Then, they hired industrial design companies to make the final product. They did a Kickstarter in May, 2020 to add to their self-funded cash and ordered their first 14,220 units (that's how many fit in a shipping container). The finished product was shipped in January, 2021 and now the banana gadget to end all gadgets is for sale on Amazon. Now, they've made their way to the Shark Tank in episode 1311.
The product itself gently straightens a banana out, then you can inject yogurt, honey, jams & jellies, peanut butter, Nutella or whatever you like into the banana. The best thing is, you do all this with the peel on making it far less messy than spreading something on a peeled banana. It's made from food safe materials and has material grade certifications. Each unit comes with a brush to clean the coring and injection tool and the whole banana gadget is top shelf dishwasher safe. The Banana Loca costs $28.99. The pair are likely looking for a Shark to help with manufacturing. Will a Shark like this banana?
My Take on The Banana Gadget
When I first saw this, I thought it was stupid, but after watching the videos about it, I grew to like the idea. I LOVE peanut butter and banana sandwiches, but I've been watching my carbs the past few years, so this would help me indulge in the snack without bread. I also initially thought it would be tough to clean, but the brush and the dishwasher will do the job.
The company cares about banana lovers, too. In April, 2021, they donated a year's worth of bananas to the gorillas at the Franklin Park Zoo in Boston. Apparently the gorillas there eat over 1000 pounds of bananas per year. They won't be getting any peanut butter with them though. If you are into kitchen gadgets (I am) and you like bananas, this is a pretty cool product. I'm in.
Do Sharks Eat Bananas?
My first thought is the Sharks, particularly Mark, will say "it's a product, not a business." I don't think Mark makes an offer. The same goes for Daymond. I don't see Mr. Wonderful or Robert making offers either, it's not really in their lane. That leaves Lori.
If Lori likes the product, it's definitely in her lane. I expect her to make a Sharky offer in the 30% range, which could kill a deal. Of course, sales trump everything. If they have a lot of sales and she believes in the product, expect an offer from Lori.