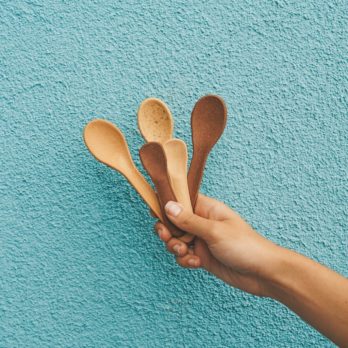 Dinesh Tadepalli wants a Shark to bite on incrEDIBLE Eats, his line of edible cutlery, in Shark Tank episode 1304. The cutlery is made from a cookie-based material – Dinesh describes it as a "biscotti type texture." By 2050, there will be more plastic by weight than fish in the ocean. The company's mission is to help reduce the amount of plastic by creating utensils you can eat. If you don't want to eat them, they'll decompose.
He got the idea for the product back in 2018 while getting ice cream with his daughter. He began investigating methods and settled on a process and manufacturing facility. Once he was ready to go into production, he sold his home to fund the start up. They also focus on sustainability in their packaging. While some plastic is used to keep moisture from the spoons during shipping, they are using as little as possible so they offset their plastic use with their products. They only make spoons for now but they plan on introducing forks, knives, straws, cups, chopsticks and more in the future.
They have sweet flavored spoons for things like ice cream and savory flavors for soups. Boxes of 20 or 30 spoons range from $10-$12 So far they sold 1.5 million edible spoons. The sweet flavors are "plain," chocolate and vanilla. The savory flavors are black pepper and oregano chili. He's mostly been selling to food services and small ice cream shops and they sell direct to consumer on their website and Amazon. He likely wants a Shark's help expanding into retail and accelerating institutional sales.
Company Information
Video

Posts about IncrEDIBLE Eats on Shark Tank Blog
Edible Spoons by IncrEDIBLE Eats
IncrEDIBLE Eats Shark Tank Recap
Dinesh enters seeking $500,000 for 7% of his business. He tells the story of how he got started and how much plastic cutlery goes into the trash. Lori loves them and says she'd buy them just to eat them. His current sales focus is with food service. Each spoon costs 10 cents to make and sells for 20 cents. He's sold 1.2 million spoons and made about $170,000.
In 2020, the Covid-19 pandemic killed his food service business, so he spent that time building a website to sell direct to consumers. He's extremely proud of replacing 1.2 million spoons and obviously very passionate about his product. Barbara says she likes his enthusiasm, but feels he's blinded by it, she's out. Daniel likes Dinesh's enthusiasm too, but doesn't think he's blinded by it. Daniel says he hasn't proven how to scale it and goes out.
Kevin thinks it's brilliant, but he doesn't like the valuation. Kevin offers $500,000 for 35% of the business. Mark thinks Dinesh is thinking too small and said to himself "why didn't I think of that." Mark offers $500,000 for 20%. Lori thinks it's fantastic and she wants to put the cutlery in stores right next to the plastic cutlery with some new packaging. She offers $500,000 for 15%. Daniel then offers $500,000 for 25%. When Dinesh counters with 12%, Mark goes out and Dinesh takes the deal with Lori.
IncrEDIBLE Eats Shark Tank Update
The Shark Tank Blog constantly provides updates and follow-ups about entrepreneurs who have appeared on the Shark Tank TV show. In the immediate aftermath of the show, Lori was Tweeting about the deal. On the night the original episode aired, they had $50,000 in pre-orders. Dinesh says he went with her because she offered the lowest equity and seemed very enthusiastic about the product. He wants to use the money to hire two more employees and build up the company's inventory. As of the week following the show, Dinesh says the deal with Lori is "still in negotiations."
In January, 2022, Dinesh announced that the deal with Lori did not close because the terms changed. He did partner with ice cream vendor Dippin Dots to provide his spoons for their locations and kiosks. Dinesh apparently reached out to them before the show aired. He's currently in discussions with a large ice cream retailer, an airline and a fast food company. As of August, 2022, there are no new deals in place. Revenue for 2022 is over $500,000 at this juncture. In January, 2023, the company announced it was developing edible chopsticks, edible coffee stirrers, edible cups and edible bowls. As of August, 2023, the deal with the fast food chain fell through.
This page will be updated as new information on Dinesh Tadepalli & IncrEDIBLE Eats becomes available.