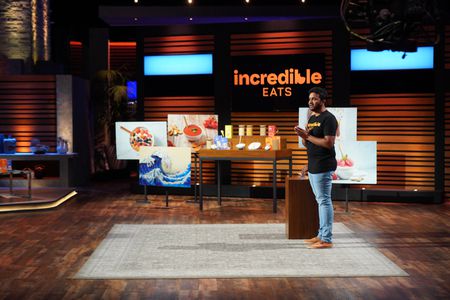 Dinesh Tadepalli got the idea for IncrEDIBLE Eats, his edible spoons, while taking his kids out for ice cream. He was shocked by the amount of plastic spoons in the trash. He did some research and found out people throw away over 100,000 plastic utensils every day. Dinesh is an engineer and he wanted to figure out a way to battle the plastic problem, so he sold his house in California and moved to more affordable Morrisville, North Carolina and plowed all his savings into developing edible spoons. He came up with a viable product from a mix of wheat, oats, corn, chickpeas, and brown rice.
He kept his day job at Intel Corporation and doesn't pay himself; all profits go back in the business. In 2020, he had $150,000 in sales; so far, he has $300,000 in sales. He really doesn't care about money, either. He wants to make an impact on reducing plastic waste. Once that happens, he's happy to take the money.
It took a lot of trial and error to come up with a spoon that was durable enough to withstand ice cream or soup. He claims the spoons will stay firm up to 25 minutes in hot soup. They come in four flavors:  vanilla and chocolate for ice cream and oregano chili or black pepper for soup. There are plans in the works for edible forks, knives and straws too. They're made of a cookie like dough in India. He sells on Amazon and to the catering and food service industry. Even if you don't want to eat the spoon, it will naturally decompose whereas a plastic spoon has a six hundred year shelf life. He's hoping a Shark can help him make an impact.
My Take on Edible Spoons
IncrEDIBLE Eats is already one of my favorite pitches of all time and I haven't seen it yet. As an avid fisherman, water pollution of any kind is very important to me. I am a clean water activist in my local community and I applaud any effort to reduce plastic waste. They say by 2050, plastic will outweigh fish in the ocean. It sickens me.
I will definitely check these out. I'd love to see them in every restaurant and ice cream shop in the world. I am even going to order some when my stash of bamboo utensils runs out. If this catches on, it will be HUGE and Danish will have the impact he so desperately craves. I'm all in.
Do Sharks Eat Spoons?
I am predicting a Shark fight for this one. The only concern may be that's not proprietary. Another company called Bakeys did a Kickstarter to create edible spoons in 2016. The company is based in India, but I can't find a website for them anywhere. Perhaps Danish has this company making his spoons?
I am thinking any of the Sharks could bid on this one, as long as the valuation is reasonable. I hope Danish doesn't tell them he doesn't care about the money though, that could turn the Sharks off. I'm thinking Mark or Daniel or Lori (or all three of them) do a deal for this very promising business.