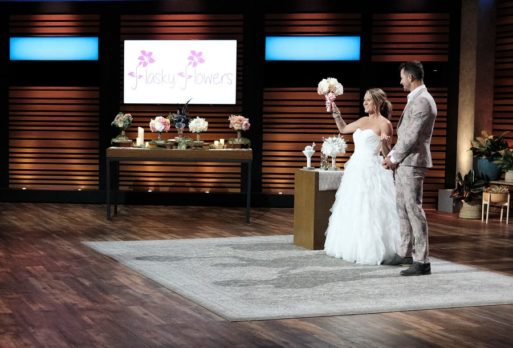 Kelly Moynihan created the Flasky Flowers flower flask to make weddings a little more bearable on brides and bridesmaids. They always have to hold their flowers and it's tough to take a drink without setting them down. Whether you have a margarita or just water, it's a novel way to have a drink at a wedding. She and her husband, Ryan, will showcase the product in episode 1304.
It's amazing she could find the time to invent anything. She works full time as a hair dresser and has SEVEN kids! The product is fairly straight forward. There a little "basket" at the top that holds wet or dry flower foam. Under the basket is a hinged top. Flip it open, pour your beverage in and you are good to go. A straw with a cap sticks up discreetly for easy sipping.
At $19.99 per unit, it's a novelty item to be sure. She manufactures them in the USA in Florida. The flower flask holds 12 ounces. Kelly got the idea 8 years ago while at a wedding. When it was picture time, they all tossed their drinks. She spent the next 8 years designing it and getting a patent. The couple applied to Shark Tank in 2019, but Kelly was set to give birth in 8 weeks so they were declined. Now, they're hoping a Shark will help their business bloom.
My Take on the Flower Flask
This is a cute idea. As a father of five who was frequently overwhelmed by sheer numbers, I can't believe the Moynihans have 7 kids! There's an old joke:
When you have one child it's easy because mom and dad can take turns. Two is still easy because there' a parent for each child. With three or more, you have to kick into a zone and that's when it gets tricky!
But I digress. These two look fairly young and they say have kids while you're young and still have energy. It's a testament to their ability to multi task for sure.
That said, this is a cute product. I think it would do well in flower shops and online flower providers. The can also target the wedding market. If they had this when I got married, my wife would have loved to have one. I'm in.
Will Sharks Drink This In?
Anyone's initial prediction is Kevin will bid on this. He has a big wedding marketing business and he could plug this into it seamlessly. I'd normally say he'll offer a royalty deal and that would be it. Lori is the only other Shark I see as interested.
But I don't think they get a deal. Their website, while recently redesigned, doesn't have that Sharky "feel" to it. Plus, their paywall is PayPal. Not that there's anything wrong with PayPal, but a deal with a Shark would get some serious credit card processing interface. I'm afraid this may be too niche for the Sharks.