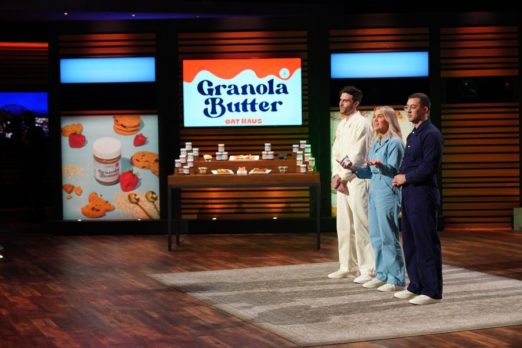 Ali Bonar started experimenting with making granola butter after a ten year battle with food disorders. She studied nutrition at UC Berkeley and her meticulous nature forced her to try and eat perfectly. It didn't work. She developed an intolerance to nuts during that time. When she finally beat her food demons, she wanted a nut butter alternative and set her sites on making granola butter.
Initially, the business was a side hustle. Ali admits the first batches weren't very good, that's when company co-founder (and boyfriend) Eric Katz enlisted a chef friend of his named Ari Schaer. Schaer added some seasoning to the butters and they had a sellable product. The three sold it as a side hustle while Ali and Eric continued to work in the health care tech industry for about a year and found a nut free co-packer.
The product was initially called Kween (Ali was known as the avocado queen). After moving the business to the greater Philadelphia area from California, they changed the name of the granola butter to Oat Haus. Kween is the  name of the manufacturing plant they built to make their product. The products are available at Whole Foods, Pressed Juicery, Thrive Market, Erewhon, Central Market, Juice Press and Amazon.
My Take on Oat Haus Granola Butter
I like nut butter. I also like granola, so it's probably not a stretch that I'd like Oat Haus. I usually order Shark Tank food products to try them and I'll definitely give this a try. It's cool they built out their own manufacturing facility. Co-packers are good, but finding a nut free one can be tough. They may even have other products in the pipeline.
As for Ali, if you read up on her, she had a rough go with her ten year battle with eating disorders. I won't go into detail, but she strikes me as a resilient woman. I like to root for the underdog and Ali is/was one. I'm in.
Do Sharks Eat Granola?
Whenever Daniel Lubetzky is on the show, you have to think he may bid on a food product. This could be something that interests him, after all, there's granola in KIND Bars. I predict he'll bid. Lori and Mark could bid too. They're both known for bidding on healthy foods.
Kevin doesn't like food products, so I think he's out. Barbara bid on a peanut butter company several years ago, but the deal fell through. She may bid too. Look for some action on this pitch, maybe even a Shark fight