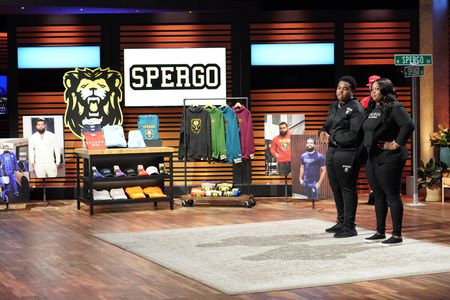 Trey Brown created SPERGO Apparel to get himself and his friends of increasingly violent streets in his neighborhood. He wanted to create a hip brand that exuded positivity and encouraged his peers to follow their dreams. So at age 12, with $178 he got for his birthday, he purchased 16 tee shirts and personally sold all of them. Instead of resting on his laurels, he plowed all the profits back into producing more and more tee shirts. By the time he was 13, he had $25,000. With that, he expanded the line to include socks, tee shirts, sweat shirts, hoodies, sweatpants and shorts.
SPERGO Apparel got its name by Trey combining SPorts hERos and GO. He's taken those 16 tee shirts and parlayed them into a mini empire. He has all sorts of celebrity and athlete endorsements and he's been part of the Philadelphia 76ers Buy Black grant program, a program that helps black owned businesses with marketing. He even got on the famous Times Square electronic board.
With $2 million in projected sales for 2021 (he had $825,000 in 2020), he's sure to catch the attention of the Sharks. Trey sells from his website and from his store in Philadelphia. He opened that with a $25,000 grant he got from Sean "Diddy" Coombs on the Ellen DeGeneres show. He has two new stores "coming soon" in Pentagon City, VA and King of Prussia, PA. When he pitches the Sharks in Shark Tank episode 1306, he likely will be looking for money to fuel global brand growth.
My Take on SPERGO Apparel
This Trey is something else. He has drive, ambition and charisma – not to mention millions of dollars in sales. I was impressed with him while reading articles about him and watching some of his videos. He's the real deal. He built a great business, too.
As for the clothing, I'm not likely to be a customer. I wear bathing suits or shorts and tee shirts 95% of the time and, while his clothing is a quality product, it's just not my cup of tea personally. I do think Trey will find tremendous success, with or without a Shark.
Will Sharks Dress up a Deal?
I don't think Mr. Wonderful will bid on this, unless he's so impressed by Trey he can't help himself. Mark and Lori aren't big into apparel, so I don't think they're going to bid. Robert has had success with apparel lines like ButterCloth and Tipsy Elves, so he could be interested. Robert won't like the retail approach though and may bow out because of that.
What I think will happen is Daymond will encourage him to NOT take on an investor. The kid grew the business from $178 to $2 million in three years (he started the business in 2018). Daymond will say he can do it on his own. He may even offer to mentor Trey like he did with Moziah Bridges of Mo's Bows.