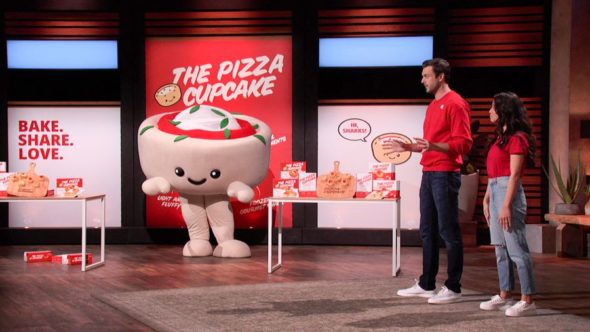 Andrea Meggiato and Michelle Jiminez-Meggiato feed the Sharks The Pizza Cupcake, their Brooklyn based food business, in Shark Tank episode 1209. Andrea, who was born in Italy, started the business with his wife Michelle in 2018. They literally make cupcake sized pizzas topped with tomatoes and mozzarella cheese. You can also add pepperoni, zucchini or mushrooms. The real secret is the dough which isn't traditional pizza dough – it's a mixture of pan brioche and sourdough. All the fresh ingredients make for a flavorful bite New Yorkers have embraced,
They started off selling from a cart at Citi Field –  home of the Mets – and in Brooklyn's Smorgasbord market. That exposure got them regular catering gigs at companies like Comedy Central, the New York Times and others. Now, they're nationwide selling frozen Pizza Cupcakes for you to cook at home.
The Covid-19 pandemic shut down their cart business and their catering gigs cancelled, so in March, 2020 they flipped their strategy and went to eCommerce. The couple made a big impact during the pandemic. For every 24 pack of The Pizza Cupcake sold, they donated a 24 pack to front line health care workers and funds to the Lower Eastside Girls Club.
If you want to try them in your home, they cost $25 for a 12 pack on the company website.  The couple likely wants a Shark's help getting into retail. The question is, do Sharks like pizza?
Company Information
Video

Posts about The Pizza Cupcake on Shark Tank Blog
Pizza Cupcakes – Bite Sized Pizza
The Pizza Cupcake Shark Tank Recap
Andrea and Michelle enter seeking $125,000 for 5% of their business. They tell their story and hand out samples. The Sharks love it. It's clear they want Lori. They know what valuation she went into the Bantam Bagels deal at. They already found a co-packer – the same one Lori uses.
As they wished, Lori makes an offer of $125,000 for 20%. Andrea and Michelle counter with $125,000 for 10% and Lori goes to 15%. All the other Sharks are out and Kevin tells them they're skating on thin ice. Michelle counters one more time with $125,000 for 12.5% and 2.5% advisory shares. Lori agrees to that deal.
The Pizza Cupcake Shark Tank Update
The Shark Tank Blog constantly provides updates and follow-ups about entrepreneurs who have appeared on the Shark Tank TV show. This deal closed and the company appears on Lori's Website. Unfortuneately, due to the Covid-19 pandemic, they're having difficulties getting supplies and keeping up with the Shark Tank generated demand. This statement appears on their website:
Due to the overwhelming support from Shark Tank, everyone wants a bite of The Pizza Cupcake. Which is great AND overwhelming in a pandemic. Suppliers are behind, shipments are delayed, and so many materials are in high demand. This is happening with so many small businesses right now, not just us.

The good news is, you can still pre-order The Pizza Cupcake and get it shipped between late March and mid-April. And that means a lot to our quickly growing, small business. Although we cannot promise a specific date due to COVID logistics, you'll receive your tracking info via email as soon as your order is out for shipment.

Thanks for your patience and support.

Michelle & Andrea
As of July, 2021, they are back up and running smoothly. In September, 2021, the company announced its products will be on the shelves at all Wegmans locations throughout the East Coast. In October, 2021, they launched in over 100 Wegman's stores on the East Coast. Annual revenue is under $5 million but growing. The business gets an update segment in episode 1315.
In the update, they say the pandemic took them to zero dollars in revenue. Then they got the call to film on Shark Tank. Prior to Shark Tank, sales were $300,000. 10 months later, they are at $3.1 million in sales. They are in Whole Foods, Wegman's, Fresh Direct and "many other national chains." They expanded to 5 fulfillment centers so they can ship nationwide. Michelle thinks entrepreneurs should find out what they love, do it with the person you love and you will be successful.
As of July, 2022, annual revenue is $5 million and growing. In October, 2022, the company announced it will be going into over 2000 Wal Mart stores nationwide.