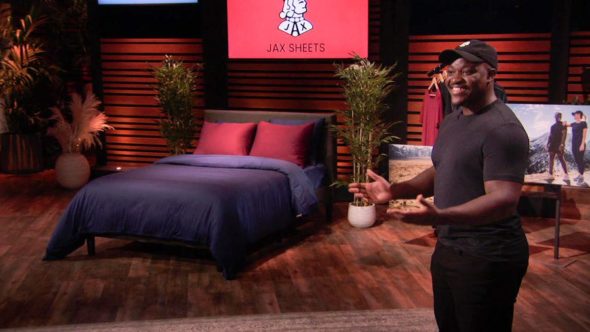 Wen Muenyi hopes to get into bed with a Shark with Jax Sheets, his sheets for men, in Shark Tank episode 1209. He became fascinated by sheets after buying some expensive, silk sheets. They were the most comfortable sheets he ever slept on, but he knew a lot of people wouldn't buy them due to the price. Wen set out to create sheets that would give guys the silk experience at a fraction of the price.
He did just that. Jax Sheets are made with breathable bamboo fiber, which is actually softer and more sustainable than cotton. The sheets are infused with silver for anti bacterial properties and they have a tougher elastic band for fitting on the bed. He bills them as "sheets for men" because men statistically don't wash their sheets much. Because of the infused silver, they won't stink even if you don't wash them for a year!
They got the business going with a successful Kickstarter campaign that raised $351,976 in January, 2020. As of January 2021, they were just starting to ship product to their backers. The delays were likely due to the Covid-19 pandemic.
A set of Jax Sheets with a flat and fitted sheet and two pillowcases will set you back $149. Right now, they only come in gray. Wen likely is looking for a Shark to help him navigate manufacturing during these Covid times. Will a Shark get in bed with this company?
Company Information
Video

Posts about Jax Sheets on Shark Tank Blog
Jax Sheets Shark Tank Recap
Wen enters seeking $212,000 for 10% of his business. He explains how most men only change their sheets every three months and his odor reducing technology mitigates that. He's also willing to throw his clothing line, which uses the same technology, into the deal.
The Sharks genuinely like Wen for his forthrightness and hustle. They are concerned that it took a long time to ship the Kickstarter product and that he hasn't made any other sales of the sheets. He has sold $270,000 of his clothing as well.
Kevin is intrigued by the sheets, but isn't at all interested in the clothing – he goes out. Mark calls it the best pitch ever due to Wen's genuineness, but he declines to make an offer. One by one, the other Sharks go out too.
Jax Sheets Shark Tank Update
The Shark Tank Blog constantly provides updates and follow-ups about entrepreneurs who have appeared on the Shark Tank TV show. Wen is still very much in business and has not given up on the clothing line. In fact, he now has his clothing and sheets together on his HercLeon (the clothing line) web page. The Jax Sheets site now redirects there. As of July, 2021, annual revenue is $900,000-$1 million.