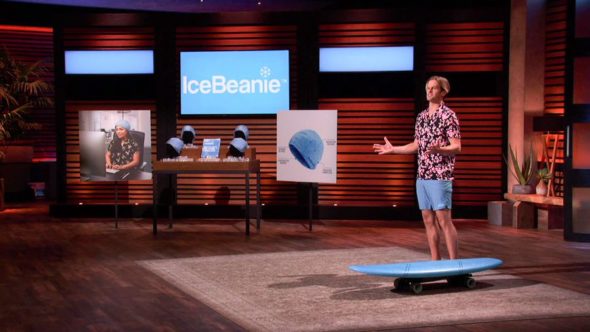 Nic Lamb hopes to find a fit for IceBeanie, hit cold compression headwear, in Shark Tank episode 1209. Nic is a world class surfer turned entrepreneur who started surfing at age 5 and competing at 9. In 2014, he won The Punta Galea Challenge in Spain. Two years later, at the same event, he had a bad wipeout that gave him some head injuries and a pretty serious concussion.
It was while recovering from the wipeout when he envisioned the IceBeanie. The concussion caused post concussion migraines and he had to constantly apply ice packs to his head. He wanted an easier way. The added compression of the beanie helped his pain, too. By using his product, he eliminated his head pain. In early 2020, Nic made his prototype a reality and began selling IceBeanies online.
The product itself is fairly simple. It's an adjustable beanie with gel packs embedded in it. Just put it in the freezer for an hour and it's ready to go. It's great for migraines, headaches, concussions, hangovers, chemo recovery and more. They sell on Amazon for $39.99. Nic probably wants a Shark's help with manufacturing. Will a Shark want to chill with this entrepreneur?
Company Information
Video

Posts about IceBeanie on Shark Tank Blog
The Ice Beanie for Keeping Cool
IceBeanie Shark Tank Recap
Nic enters seeking $50,000 for 20% equity in his company. He tells his story and hands out samples. He explains that he sold out of his first 2500 units netting $100,000 in sales. Since there are about 40 million people who suffer from migraines, he thinks he can sell a lot more because no other product covers the whole head like his does.
He also thinks it can work in the sports/athletics space. Mark agrees and thinks there are other markets to hit as well. He offers Nic $50,000 for 30%. Nic counters with 25% and they agree to a deal. Mark and Kevin say they wanted to make offers, but Nic says he'll honor the deal he just made with Mark.
IceBeanie Shark Tank Update
The Shark Tank Blog constantly provides updates and follow-ups about entrepreneurs who have appeared on the Shark Tank TV show. The first re-run of this episode comes about a month and a half after the original air date. As of March, 2021 there is no hard evidence this deal closed.
As of October, 2021, the deal with Mark closed. Many knock-offs appear on Amazon. As of August, 2023, the company has over $1 million in lifetime revenue.
I will update this page as more information becomes available.