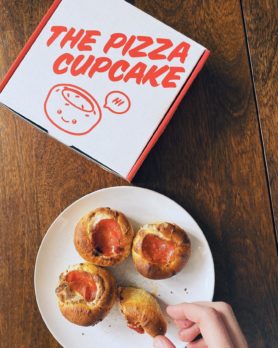 Andrea Meggiato made his first Pizza Cupcakes in his home kitchen. When he immigrated from Italy, he worked in the food business, so he was used to experimenting with food. One day, he made a small bite sized pizza with sourdough and brioche and his wife dubbed them Pizza Cupcakes. As more friends and family got introduced, Andrea and his wife, Michelle, decided to go into business and the Pizza Cupcake was born.
Everybody loved the pizza cupcakes. They were selling them from a cart in food markets. They were in Mets stadium and they catered to some of the top businesses in New York City. Everything was going great until Covid-19 shut down New York – and their business.
They had to pivot – fast, so they started delivering around the city. They found a way to freeze and ship the product to customers who ordered online. People love the product and kept ordering. With every order, Michelle and Andrea spread some good will by donating a box of cupcakes to front line doctors and nurses. They made the best out of a very bad situation and were able to grow a business when many businesses shut down. Now they want a Shark to take them to the next level.
My Take on Pizza Cupcakes
In normal times, I'd be ordering these as I type my blog post about it. But alas, I am on a keto diet and will be until I meet my weight goals. The Pizza Cupcakes will have to wait, but I will try them. I try most Shark Tank food products if I can get my hands on them.
I love pizza, so I'm sure I'll love these. I've seen some online reviews and they made my mouth water. I'm also impressed by the couple's ingenuity and ability to "make lemonade" out of a very lemony set of circumstances. I'm in.
Will Sharks Bite on This Pizza?
My first thought about this was Lori would be a good Shark. She invested in Brazi Bites and Bagel Stuffins -both bite sized, frozen food items (that are yummy – I've tried them). She knows the space and this would fit her portfolio. The only thing that could mess things up is if she thinks The Pizza Cupcake would conflict with Brazi Bites.
I don't think Mr. Wonderful will bid – he hates the frozen food business. Barbara does food products on occasion, as does Mark, so they could bid. I still don't have a feel for Kendra Scott yet, so I'm not sure. I'm predicting a deal from either Lori, Mark or Barbara.