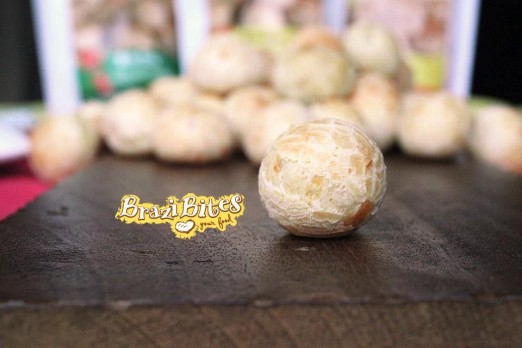 Cameron MacMullin and Junea Rocha bring a little bit of South America into the Shark Tank when they pitch Brazi Bites, a new spin on an old Brazilian treat, in episode 711. Junea, who hails from Brazil, missed her favorite snack food up in Portland, OR, so she called her mom and got the old family recipe. That was back in 2009.
In 2010, after perfecting the recipe, Junea and Cameron began making Brazi Bites for sale in 2010 after successfully sourcing a hard to find ingredient. Since then, they've grown into a 5000 square foot production facility with over 15 employees. Brazi Bites are available in New Seasons, Wegman's, Fred Meyer's and other super markets in 20 states. In November 2015, they are doing a test run in Costco.
Brazi Bites come frozen, then you bake them at home. The company doesn't share revenue (though they will with the Sharks), but they do claim sales have tripled each year since 2010. Junea and Cameron likely want a Shark to help fund big purchase orders from the Costcos of the world.
Will a Shark bite on Brazi Bites?
Brazi Bites Shark Tank Recap
Cameron and Junea enter seeking $200K for 10% "in our awesome company."
Junea tells the story of how she grew up in Brazil and says her favorite food is Brazilian cheese bread. When she moved to the USA, she couldn't find it, so she made it!
They hand out samples, Robert and Lori absolutely LOVE it! The product is made from tapioca flour, so it's gluten-free. 3 pieces have 120 calories. It's cooked in the oven, but it can't be cooked in the microwave. The product is in 700 stores; they got on the shelves the hard way: by knocking on doors. 2014 sales were $600K and they are on track to triple that this year.
Daymond thinks they can get better margins online and he touts the success of Bubba's BBQ Ribs; he offers $200K for 25%. Kevin offers $200K for 20%. Lori wants to know if it integrates with Bantam Bagels and Cameron says their cheese bread is gluten-free. Lori offers $200K for 25% and Kevin immediately drops his offer to $200K for 15%. Robert says there's a feeding frenzy!
After a break, all the Sharks are still in. Junea asks Kevin for his vision for the business and Lori says she'd help them dominate natural and organic stores. Cameron reveals they have $200K in debt for baking equipment and they have a deal with a co-packer who has 50% of the business due to investing in specialty equipment.
After hearing this, Robert goes out. Mark thinks the risk/reward ratio needs to be greater; he goes out. Cameron thinks 25% is too much – Lori says that's the problem with owning only half of the company. Kevin drops to $200K for 12.5%. Daymond drops his equity ask to 20% and tells Cameron and Junea they have the Sharks at a discount. They ask Lori if she'll go to 15% and she asks if they'll split the difference at 16.5%. Kevin and Daymond go out and they do the deal with Lori. They are excited to work with Lori because of her success with consumer products.
RESULT: DEAL with Lori for $200K for 16.5% of the business.
Brazi Bites Shark Tank Update
The Shark Tank Blog constantly provides updates and follow-ups about entrepreneurs who have appeared on the Shark Tank TV show. The deal with Lori never closed and the Brazi Bites website couldn't stand up to the Shark Tank effect, it crashed over the weekend after the show's original air date.
Two years after the original air date, they did a deal with Target. In July, 2018, the company sold a "majority stake"  in the business to San Francisco Equity Partners. The terms were not disclosed, but Junea said it was "a significant investment." In August, 2021, it's hard to find a grocery or wholesale club store that doesn't stock them. They're also available on Amazon. I've tried them and they are DELICIOUS! In March, 2022, the company launched Pizza Bite (maybe to compete with the Pizza Cupcake) As of August, 2022, annual revenue is $12 million.
Posts About Brazi Bites on Shark Tank Blog
Brazi Bites Company Information
Video