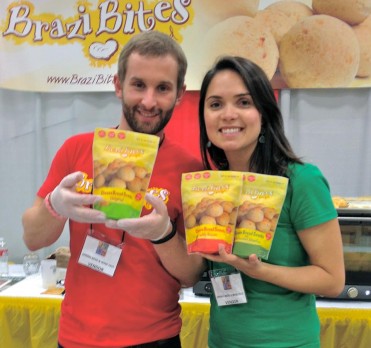 Brazilian Cheese Bread has its roots in the 1600's when slaves in the state of Minas Gerais started making tapioca starch from yucca roots. They rolled the starch into balls and baked them. A few hundred years later, folks started adding milk and cheese to the starch and Brazilian cheese bread was born. It's a staple snack in Brazil, and Cameron MacMullin and Junea Rocha, creators of Brazi Bites – their ready-to-bake brand of Brazilian cheese bread, want to make it an American staple. They're pitching their business to the Sharks in Shark Tank episode 711.
MacMullin and Rocha started making Brazilian cheese bread at home in 2009 after Junea asked her mom (who was back in Brazil) for the old family recipe. After some challenges finding the right kind of cheese in the USA, they stumbled upon the right combination. They rolled up thousands of their Brazi Bites for a Portland, Oregon area food show and sold out. That's when they knew they could make a business out of Junea's family recipe.
Fast forward to 2015 and Brazi Bites are in supermarkets in 20 states and they're about to debut in Costco. The company is sure to increase demand and get lots of exposure from Shark Tank. The fact they're gluten-free will sell well, too. Perhaps Brazilian cheese bread will become an American staple snack, with the help of a Shark.
My Take on Brazilian Cheese Bread
For 25 years, I lived in Natick, Massachusetts – right next to Framingham, which has the fifth largest Brazilian population in the USA. There are Brazilian barbecue joints and bakeries all over the place. There was one joint that smelled so good all the time, it gave me hunger pangs every time I drove by!
When I owned a Hot Dog Truck, I used to grill chorizo (a spicy sausage) and serve it on Brazilian rolls purchased at a local bakery. Whenever I went in there, I'd get some Brazilian cheese bread. We often had it at home – it's ridiculously yummy!
Now that I live in sunny Florida, I don't have ready access to my favorite Brazilian delicacy. I'm on the west coast and most of the Brazilian population is six hours away in the Miami area. I'd love it if I could grab some Brazi Bites to bake at home. I'd make chorizo sliders with them – get these Brazi Bites into Publix! I am IN!
Do Sharks Bite on Brazi Bites?
One thing is certain, the Sharks are going to LOVE Brazi Bites. Once you've tasted Brazilian cheese bread, you are hooked, whether you're a Shark or not. Brazi Bites has no mass market competition, most people get their Brazilian cheese bread in small, local bakeries; nobody else is selling it at Costco!
Brazi Bites doesn't publish sales figures, but they claim to have tripled their sales each year since 2010. They boast 18 employees churning out Brazi bites in a 5000 square foot production facility. Bread is cheap to make, so their margins have to be good. They also have a retail presence in 20 states and once they hit Costco, their market exposure will grow. It almost seems like they don't need a Shark!
That said, I think they'll field several offers. Lori scored big with another frozen bakery item when she invested in Bantam Bagels, maybe she'll want to add to her frozen food portfolio. Robert's been trying to get a quality food product in his portfolio this season, maybe Brazi Bites is the one. Mr. Wonderful could also bid.
My guess is the Sharks will want too much equity and Brazi Bites will respectfully walk away. They're doing too good on their own to need a Shark's help.