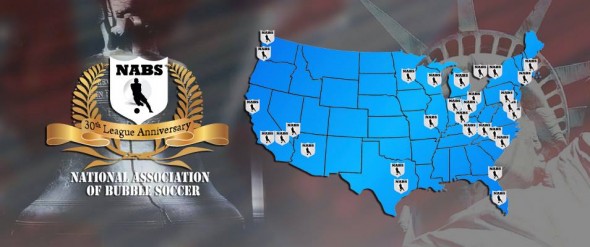 John Anthony Radosta thinks he has the next big thing on his hands (or feet) when he pitches NABS (short for the National Association of Bubble Soccer) in Shark Tank episode 711. Bubble Soccer is taking the world by storm. It first appeared on a Norwegian comedy show which featured professional soccer players plowing into each other while encased in giant bubbles. The "sport" was also featured in the Amazing Race as a roadblock challenge a few seasons ago.
Since then, bubble soccer leagues have sprung up all over the USA and the world. Radosta is stepping up the game by offering NABS franchises and centralizing insurance and "sanctioning" into a national organization. There are currently 50 NABS bubble soccer franchisees in the USA and ESPN will cover the national championship game in Las Vegas in 2015.
Bubble soccer is played like regular soccer, except players are encased from the knees to the top of their head in a giant, inflatable bubble. Ramming into other players is encouraged! It looks quite silly, but it's a lot of fun. Franchisees invest $3,000-$10,000 for NABS approved soccer bubbles, marketing materials, insurance, and a web platform. In addition to hosting league play, they can rent the equipment to groups.
Radosta is likely looking for a Shark to grow the business into a national powerhouse.
My Take on Bubble Soccer
When I was in college, I remember going to a bar, donning a giant, inflatable Samurai suit and doing battle with some of my friends. It was a blast. Bubble soccer looks similar, but with better suits, more movement, and scoring. The idea of nearly painlessly getting knocked around seems like it would be a lot of fun.
While the risk of injury may be low, I doubt I'd be playing with my creaky back and knees, but I am interested in becoming a franchisee – I am IN!
Do Sharks Burst the Bubble?
Event based companies are a hit or miss proposition in the Shark Tank, but Mark Cuban invested in two notable successes: Rugged Maniac – a Spartan race company, and LA Haunted Hayrides – the Halloween and horror themed experience. Cuban thinks event based businesses have a big niche in the increasingly online world.
Bubble Soccer has the potential to be similarly successful. Soccer is the number one sport in the world and bubble soccer makes it even more accessible. There are plenty of people who'd play, as evidenced by the rapid growth of the franchises.
Cuban is the only Shark likely to have interest in NABS, so if the numbers are good and he likes the NABS business model, he'll invest. I don't think any other Sharks will bite.