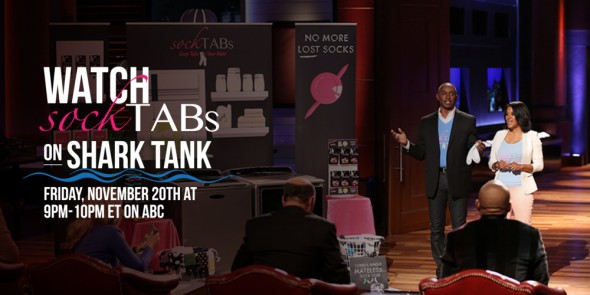 Sock Tabs is on a mission to solve a big problem: in Shark Tank season six, Mark Cuban said one of the great mysteries of life is "where's the other sock?" Glen and Tracie Burress believe they have the answer, or at least the solution, to the "lost sock" problem. Their Sock Tabs allow socks to "keep tabs on your mate."
Sock Tabs are small. plastic tabs that pin to one of your socks. You wear the sock with the Sock Tab in place and when it's hamper time, you simply attach your socks together with the tab. This way, they stay stuck together throughout the wash/dry cycles and, presumably, don't get separated. It's a simple solution to a common problem.
Whatever causes socks to get lost in the first place is not known, but there have been sock monster sightings in dryers all over the world! Using Sock Tabs could make this creature extinct, which is just what the Burresses are hoping!
My Take on Sock Tabs
Someone once told me you get all your missing socks when you go to heaven. I don't know if that's true or if there really is a sock monster hiding in my dryer. I do know over the course of my lifetime, I've lost hundreds, if not thousands of socks to the forces that cause this phenomena.
At 10 bucks for a 24 pack, Sock Tabs are inexpensive enough to try. If I have to buy even a few less pairs of socks a year because I'm not losing them, the price is worth it. When I first saw this product, I thought tabbing the socks together would be a pain, but when I saw that you actually put the tab on when you put your socks on, I changed my mind. It's such a simple idea, it's a wonder someone didn't think of it a long time ago.
It's a bit ironic that the Burresses live in Rockford, Illinois. Rockford is the original home of the Fox River Red Heel Socks Company, an iconic sock manufacturer. It also is the home of the Sock Monkey festival; the original Sock Monkeys were made from Fox River's socks. Perhaps Glen and Tracie's proximity to American sock lore had something to do with their invention.
The Sock Monkey might actually be the culprit behind all the missing socks in the world. Think about it. Sock Monkeys were originally made from socks; maybe they need to feed on lost socks to maintain their life-force. These cute little toys could actually be sock monsters in disguise! If that's true, the Burresses are battling a world-wide force. I think they'll be successful in their quest – I'm IN!
Do Sharks Keep Tabs on their Socks?
This business has the three things that make Lori salivate: low price, mass appeal, and it solves a problem. If Lori doesn't make a play for Sock Tabs, I'll be very surprised. In fact, if the numbers are good, Sock Tabs could receive multiple offers.
The only Shark who might not be interested is Daymond. He owns a piece of Bombas, which sells socks. Daymond has a conflicting financial interest if he invests in Sock Tabs. He stands to gain when socks get lost because people will go out and buy another pair. Sock Tabs could really eat into his business!
Whatever happens in the Tank, I think Sock Tabs and Lori Grenier will be partners – just in time for Sock Tabs to be stocking stuffers!