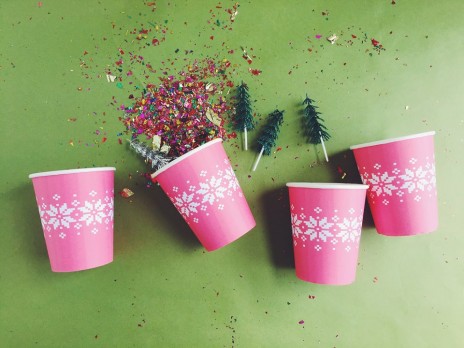 Emily from Susty Party recently contacted me to see if I'd like some samples of their Susty Party Holiday collection for review. Not being the type to look a gift horse in the mouth, I said, "sure!"
From the moment Jessica Holsy and the pixy-ish Emily Doubilet danced their way on to the Shark Tank set in season five, I loved their company. They make compostable party supplies from sustain-ably harvested and recycled materials. When you're done using your Susty Party supplies, simply throw them in a compostable bag (which they sell) and either compost it yourself or put it in the curbside compost bin (if your city has one). Heck, even if you end up throwing it in the trash, it will break down in a landfill – unlike plastic forks, plates and cups. The other thing I like about their business is their name – I still LOVE saying "Susty!"
Susty Holiday Collection
They sent me two sets of plates, a set of bamboo cutlery, napkins, coffee cups, straws, and composting bags with some holiday flair. I didn't want to wait until Thanksgiving to do the review, so I invited the family over to the house to watch my Patriots edge out the Giants in a nail biter. I served pulled pork, fried plantains, mashed sweet potatoes and asparagus. We put our beers in the coffee cups, used the plates and cutlery for dinner, and piled the trash into the 25 gallon composting bag. At the end of the evening, I chucked the entire bag onto our compost heap.
It's nice that Susty Party is green, but the product needs to be good if the concept is going to work. Let me assure you, the products are fantastic. The plates are as durable as regular, ceramic dinnerware. I was almost tempted to wash them and use them again! We did save the bamboo cutlery to use as fire starting sticks. There was no mess and the table looked about as elegant as it's going to look with me setting it. My mother, who throws a huge New Years Eve bash every year, was impressed and said she's going to use Susty Party stuff for her party and in the future (she's notorious for her use of plastic plates).
With the holidays coming up, more people will be entertaining and using disposable plates and cutlery at their gatherings. Why not give the planet a gift this holiday season and use the Susty Party Holiday collection in place of plastic dinnerware and cutlery? You won't be sorry – they make a quality product. Susty Party supplies are available at Whole Foods markets, via the Susty website or from Amazon.
Check out this poorly produced video for more info and have a Susty Holiday season!