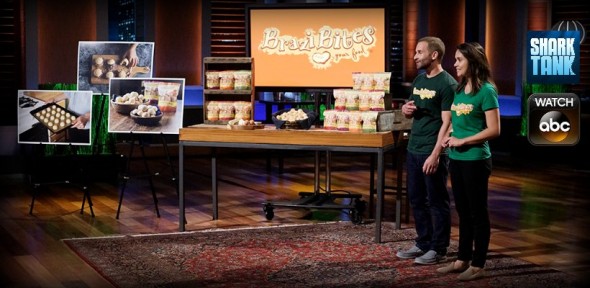 Guest post on the Brazi Bites cheese bread deal with Lori Grenier – by Dan Casey
Bread that is cheesy AND gluten-free? What's not to love? Introducing Brazilian cheese bread as a healthy snack option. Cameron MacMullin and Junea Rocha built Brazi Bites in 3 short years to $600,000 tripling sales each year. With only 50% equity ownership, they did a great job negotiating a deal with Lori Greiner. The questions asked by the Sharks, however, lacked their characteristic bite. Honestly, Brazi Bites got off easy. Let's dive a little deeper and see what other questions should have been asked (and usually ARE asked!) to gauge this investment's potential.
How do you plan to use the money?
This is a critical question. Usually entrepreneurs are looking for ways to efficiently produce their product. We learn Brazi Bites has already partnered with a co-packer who is purchasing custom equipment from Brazil. Streamlined production has already been handled. What's left? The Sharks don't like it when entrepreneurs use their money to advertise, hire more employees or pay themselves. I would have been curious to hear the answer to this question.
Why did you sell 50% of your equity?
Late in the negotiations when there's 3 offers on the table, we learn that Brazi Bites sold 50% of the company's equity to their co-packer partner. There are only so many pieces in the pie and half of them are gone. For a potential investor, it introduces a complete unknown into the equation. If they invest, the co-packer will own the majority of the company and they have never even met this partner. If the co-packer disagrees with a Shark recommendation, they can essentially veto it. As an investor, I'd be concerned that my impact would be diminished.
What's keeping big food companies from making their own cheese bread?
Brazi Bites is clearly a food innovator bringing a gluten-free snack to the United States. Cheese bread a proven concept in Brazil and they've received early support here. A big concern, however, are corporations carefully watch emerging food trends. If they see one that's promising, they develop their own version and can typically crush a smaller company with their mass distribution and by undercutting price. Mr. Wonderful usually points this out in painful detail. Brazi Bites escaped this question too.
Don't get me wrong: I've already checked to see if I can buy Brazi Bites in Chicago. I can't wait to try some warm, gooey, deliciousness myself. As entrepreneurs, I thought Cameron and Junea made a dynamic team confidently answering the Sharks. I just think that Lori is going into this with some big unanswered questions that could hinder the company's ability to take off. Hopefully it's a strong partnership and we see an UPDATE showing Brazi Bites dominating the snack category.
Dan Casey, founder and CEO of purchaseorderfinancing.com, believes every business has a story to tell. He's been listening and helping small businesses grow exponentially since 2002 using a creative combination of finance tools. He's been featured in publications including Entrepreneur Magazine, Entrepreneur Online, Small Business Trends Online, The Washington Post, Crain's Chicago Business & American Express Open Forum.
Visit www.purchaseorderfinancing.com and be sure to mention Shark Tank Blog to get a free subscription to Fast Company or Entrepreneur magazine.*

*Must qualify for financing to receive special offer exclusively for SharkTankBlog.com readers.