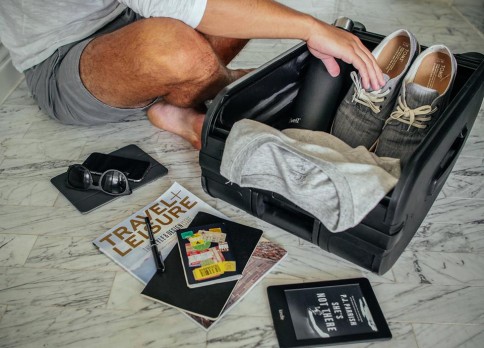 Jesse Potash and Gaston Blanchet had a vision of sturdy, technologically superior, zipperless luggage when they set out to raise funds for Trunkster. Little did they know, they'd go on to be the highest crowdfunded travel business on Kickstarter and IndieGoGo. They did so well on Kickstarter, people still wanted to pre-purchase once the campaign ended. Kickstarter has rules against that, so they duplicated the campaign on IndieGoGo to keep up with demand. Between two campaigns, they raised over $2.7 million dollars to get their product made. THAT is a lot of money. They'll be looking for a few more bucks from the Sharks in episode 714. Not bad for a couple of guys who started from a sketch on a napkin.
The first run of Trunkster zipperless luggage is currently under way, so backers will be traveling in style very soon. It shouldn't be long before we see them for sale on Amazon and in retail stores. The luggage comes in two sizes: carry-on and checked. Unlike something like the Man Pack, the "zipperlessness" is what makes it unique; it has a garage door-like opening, which lets you open it up just a smidge when you need to get something out while traveling. Each Trunkster also comes with an NSA approved lock, USB port battery charger, scale, and optional GPS tracking. There are other luggage brands that have these features, but they aren't zipperless.
My Take on Zipperless Luggage
I've had the same luggage for about 15 years. It stood up to a lot of traveling in that time and it should last another few years. Granted, it doesn't have a battery pack, scale or GPS, but it does have zippers. When I saw Trunkster's zipperless luggage, I immediately got it.
Zippers get stuck and opening luggage with zippers in the airport to get something is a bloody mess. The Trunkster solution is both efficient and elegant. They're built tough, too. It's a hard case (made from aluminum) and the "door" to the luggage looks like it can take a beating. When my luggage finally bites the dust, I'd take a serious look at Trunkster. The battery charger alone would save me from seeking out charging stations in airports.
Do Sharks Pack Up a deal for Trunkster?
My initial reaction is that Lori will be out early. She already has a deal with luggage maker Biaggi, so Trunkster would pose a conflict of interest. On the show promo video, Robert looks like he gets "into it" with Gaston: he mocks his laid back attitude. I think Robert is out, too. Mr. Wonderful gives the luggage a pretty thorough inspection, so I think he'll make an offer – I don't think it will be accepted though. Mark will likely pass since they're too early in the production stage.
Now here's the "inside scoop." Trunkster won the "Tim Ferriss Muse" award in the Shopify Build-A-Business Competition. The "prize" was a five-day retreat on Necker Island, Richard Branson's private island paradise in the British Virgin Islands. While at the island, Gaston and Jesse got mentorship from Sir Richard, Tim Ferriss, Seth Godin, Marie Forleo and Daymond John! Guest Shark Troy Carter was also there!
Is this just a coincidence? Perhaps, but I'm betting Daymond gets into the luggage business!