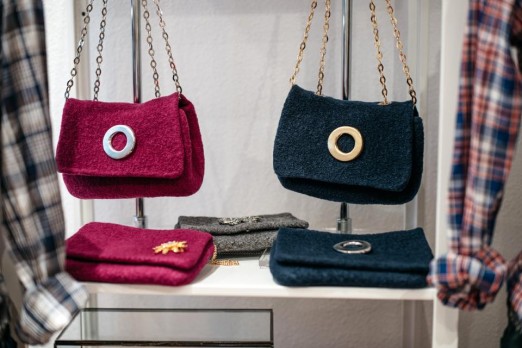 Sarah Oliver and the Purlettes (+1) sounds like the name of a doo-wop band from the 1960's, but they're actually the driving force behind Sarah Oliver Handbags. The Sharks get to meet the Purlettes and Sarah when she pitches her business tonight in Shark Tank episode 714. The Purlettes (+1) are Sarah's workforce; their average age is 88. Sarah approached the Redwoods, California knitting group when she realized she couldn't keep up with orders for her handbags.
The group was enthusiastic about their prospects for employment and they enjoy their work. One Purlette, Hector (the "+1"), says the work "keeps him young." The group churns out dozens of Sarah Oliver Handbags each day. Sarah's love for knitting came from knitting with her mom and great-aunt as a child and she genuinely loves the seniors she works with. She believes they deserve opportunities, just like the younger generations.
While her heart is in the right place, Sarah's all business. Her handbags sell for $300-$550, thus assuring there's plenty of cash for her and her "unique labor force." She just hopes the Sharks fall in love with the Purlettes as quickly as she did so they'll invest in her business.
My Take on Sarah Oliver Handbags
I would never buy one of these, though my fashionista daughter might be interested. To me, a knitted handbag for $400 seems a tad pricey, though I do appreciate the time it takes to knit a quality item. I still have afghans, sweaters, hats, and mittens my Nana knitted for me over the years. My Nana would have liked being a Purlette and several of the people we'll meet in tonight's episode remind me of her.
Sarah is on to something with her idea. Hand crafted goods obviously command a high price, and finding a responsible, capable and enthusiastic labor source is the biggest stumbling block to such a business. I'm willing to bet there are millions of would-be Purlettes out there who'd jump at the opportunity to earn money from doing something they already enjoy. That makes the business scale-able in a unique and endearing way.
Will Sharks Knit One?
All the Sharks will get a kick out of the Purlettes (+1), but they'll want to know more about the business side of things. I expect at least one sarcastic quip from Mr. Wonderful about "senior citizen sweatshops!" Sarah will defend her business with hard numbers. If she has solid sales, she'll see some interest.
The beauty of the business is the ready availability of her labor force. There are thousands of knitting groups all over the USA Sarah could approach to knit her handbags. Sarah provides the designs and quality control and future Purlettes provide the labor. It truly is a "win/win" situation.
I think she'll field an offer from either Barbara or Mr. Wonderful. The custom handbags Sarah puts out would be a perfect fit for "Mr. Wonderful's Platform of Love." There's even room for royalties in Sarah's pricing structure!