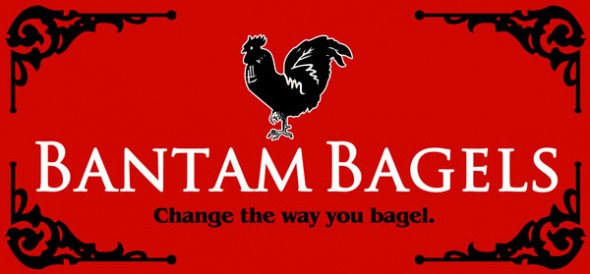 Nick and Elyse Oleksak like bagels. They like them so much, they embarked on a journey to "change the way you bagel" back in 2013 when they opened Bantam Bagels in the West Village. Their journey continues when they pitch their business in the Shark Tank in episode 611.
The idea, like many good ideas, came to Nick in the middle of a summer night in 2012. He wanted to create mini bagels that already have the cream cheese and/or other toppings stuffed right inside. After a lot of trial and error in the family kitchen, Bantam Bagels was born. About one year after Nick had his bagel epiphany, he and Elyse left their Wall Street jobs and opened up shop.
New Yorkers LOVED Bantam Bagels and literally gobbled them up as fast as the Oleksaks could make them. They won awards and got a ton of media attention. In 2014, Oprah called Bantam Bagels one of her favorite things and business went into the stratosphere. The Oleksaks made the cut for Shark Tank and hope to continue the meteoric rise of Bantam Bagels.
"Bantam" literally means a small breed of poultry, but it's come to be another way of saying "small." Bantam Bagels are about a quarter of the size of a regular bagel and they're stuffed with everything from cream cheese to lox to brown sugar and walnuts. They are pre-made so you can munch on one on the go at any time of day. Whether you head to the West Village and pick some up or order online, Bantam Bagels looks like a very tasty Shark Tank entrant. The Oleksaks likely want cash to expand their retail presence and to grow their online business.
My Take On Bantam Bagels
I love bagels. I eat one with a schmeer of cream cheese almost every day with my coffee; occasionally I'll go for one with lox, cream cheese and chopped red onion. I usually go out for coffee twice a week, so I don't always make my bagels at home. If Bantam Bagels was in my town, it would be on my morning circuit! There's nothing like a big, warm bagel in the morning.
I'd be able to mix it up with Bantam Bagels – they have 14 varieties – and since they're one-fourth the size of a regular bagel, more than one would be appropriate. Their "Shark Tank Special" includes half a dozen of six of their (and Oprah's) favorites, shipped straight to your door:
The Classic: Plain bagel filled w/plain cream cheese.
Everybody's Favorite: Everything Bagel filled w/veggie cream cheese.
Hot Pretzel: Pretzel salt bagel filled w/cheddar Dijon cream cheese.
Grandma Jo Jo: Italian seasoned bagel filled w/pesto cream cheese.
French Toast: Cinnamon nutmeg egg bagel w/ maple syrup cream cheese.
Cookies & Milk: Brown sugar walnut bagel w/chocolate chip cream cheese.
After reading that list, I am considering bombing down to New York to grab some of those pretzel bagel bites, they sound DIVINE!
I think the Oleksaks have a big winner here. They've found a way to change the bagel without making it less yummy. They were voted 3rd best bagel in New York last year – high praise from a population that practically lives on bagels. The couple certainly knows how to capitalize on good PR, too. If they can raise their game and score a deal in the Tank, the sky is the limit!
Do Sharks Bite?
This is going to be one of those pitches where the Sharks chow down and love the product. Daymond and Barbara are New Yorkers, so they'll appreciate a good bagel, even if it's dressed up a bit differently. The other Sharks will like the food, too.
I must confess, ABC let the cat out of the bag on this one. It appears Lori does a deal with the Oleksaks based on the photos ABC released for this episode. One of the promotional pictures shows Lori giving Nick a big hug onstage. Hugs are usually an indication of a deal, so I am betting the house that Bantam Bagels does a deal with Lori. You'll probably be able to order a Shark Tank special box-o-bagels on QVC the day after this segment airs!