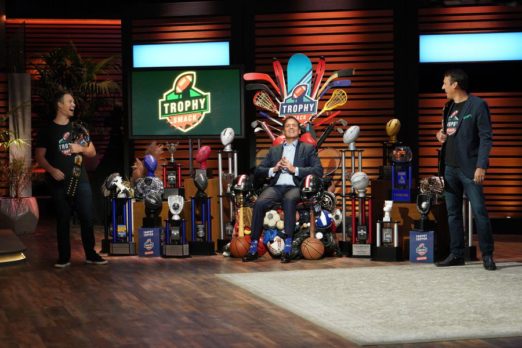 Entrepreneurs Matt Walsh and Dax Holt seek a partner for Trophy Smack, their online trophy company designed to enhance the fantasy sports league experience. Walsh is a business development professional who specializes in logistics and supply chain management. Holt is a producer, reporter, writer, and on-camera expert who was one of the founders of TMZ. Matt also won the The FSGA Elevator Pitch, a pitch contest for fantasy sports league related products, in 2018.
Both men have experience with startups and a love for fantasy football. Their combined experiences allowed them to quickly make a name for themselves in the space and gave them the ability to have quick product turn around on their orders. The concept is simple. Fantasy sports league participants are generally a fun loving bunch and Trophy Smack "enhances the experience." They provide over the top trophies for league winners. In addition to winners' trophies, they also have championship belts (like the WWE), "loser" trophies to mock the worst performers in a fantasy league and "bling" – custom championship rings.
They don't discriminate either. There are trophies for fantasy football, baseball, basketball and soccer. They even do youth sports trophies. All their products are customized in house and shipped quickly. Prices are all over the place, depending on the product, size and level of customization. The guys started the company in 2018 and likely want a Shark's help with a boost in capital. Will a Shark like these trophy entrepreneurs?
Company Information
Video

Posts about Trophy Smack on Shark Tank Blog
Trophy Smack for Fantasy Sports Leagues
Trophy Smack Shark Tank Recap
Matt and Dax enter seeking $600,000 for 8% of their business. Matt explains how he used his knowledge of manufacturing and logistics to disrupt and improve the somewhat stagnant trophy business. The Sharks love the sales numbers: $850,000 in revenue in 2018, $1.9 million in 2019 and $650,000 through July, 2020 during the Covid-19 pandemic.
They claim they want a Shark that will help them expand into corporate sales, arenas and commemorative items. The offers come flying but Mark offers the $600,00 for 17% and says he needs an answer right away. The guys quickly accept.
Trophy Smack Shark Tank Update
The Shark Tank Blog constantly provides updates and follow-ups about entrepreneurs who have appeared on the Shark Tank TV show. The first re-run of this episode comes just 2 months after the original air date. While the company isn't listed on Mark's website, they could still be doing due diligence. It can take up to a year after airing for a deal to finalize.
The deal with Mark eventually closed. As of July, 2021, annual revenue is $1 million. The company gets an update segment in episode 1319. In the update, they say they did $1.2 million in sales in a single month after appearing in the Tank. The company moved beyond Fantasy Sports awards to creating awards for any occasion. Mark says he invested in the company because the guys are selling machines and he loves the products.
The company upgraded to an 800,000 square foot facility with state of the art printing and engraving technology and they've invented a proprietary way of engraving their awards. As of the update, they employ 20 people and have hit the $10 million mark in lifetime sales.
I will update this page as more information becomes available.