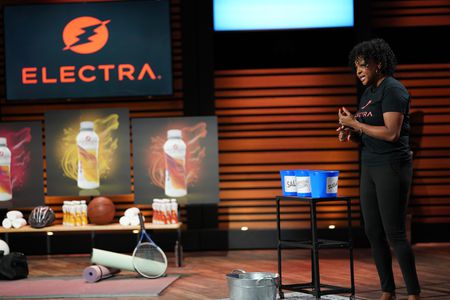 Fran Harris wants the Sharks to drink up and invest in Electra, her healthy sports drink, in Shark Tank episode 1210. Harris is a former WNBA Basketball star who claims to have consumed "tons of hydration drinks over the past 30 years" is not only a WNBA Champion, she's a former health & beauty sales executive with Proctor and Gamble. She didn't like the options available to her in the hydration drink category (a $23 billion market dominated by Gatorade), so she set out to develop her own.
She has three flavors: Passion Punch, Oh Yeah! Orange and Litty Lemonade. There are no artificial colors or ingredients and each 16 ounce bottle is loaded with vitamins, amino acids, antioxidants and electrolytes. She helped launch the company in early 2020 with an IndieGoGo campaign that raised $7212.
Harris is no stranger to TV. In addition to playing competitive collegiate and professional sports on TV, she's a former announcer on ESPN and she's appeared as a life and business coach on Good Morning America, Today, CNN, CNBC, and MSNBC. Fran definitely has the drive and personality to make it as an entrepreneur, she'd like a Shark to help her navigate the waters and get broad retail distribution.
Company Information
Video

Posts about Electra on Shark Tank Blog
Electra Shark Tank Recap
Fran enters seeking $200,000 for 20% of her business. Fran introduces herself and the product and hands out samples. The Sharks like it, but there are many objections about the difficulty of breaking into the beverage space. Fran has virtually no sales as she just started the company.  She says she wants the funds for a production run, R&D and help with marketing.
The Sharks are all going out when Fran mentions she has a couple of superstar athletes willing to get on board. When Barbara hears that, she offers $100,000 along with a $250,000 line of credit for 30%. The offer is contingent on Fran bringing one of the two unmentioned athletes into the mix. Fran accepts.
Electra Shark Tank Update
The Shark Tank Blog constantly provides updates and follow-ups about entrepreneurs who have appeared on the Shark Tank TV show. The first re-run of this episode was only two months after the original air date. There is no evidence the deal has closed and the business has not been placed on Barbara's web site, but they could still be in due diligence. Since airing, this new commercial was released:

As of July, 2021, it appears the deal with Barbara did not close. Electra is only available on its website and isn't in any stores. By February, 2022, she got her product into 172 HEB Supermarkets in Texas. She's also introducing powdered drink mixes in the spring of 2022. By August, 2022, the products were no longer in HEB Markets and she's only selling the powdered mixes on her website.