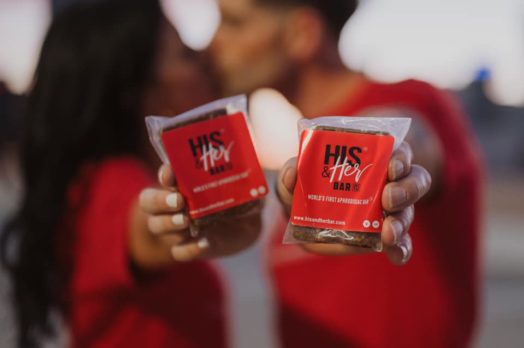 Jennifer and Michael Gallagher pitch His and Her Bar, a nutritional snack that enhances sexual desire while providing a healthy snack alternative, in Shark Tank episode 1210. Michael is a Navy veteran and former firefighter who also hosted The Mr. Wine Guy Podcast. Jennifer is a former sales & marketing executive and a budding serial entrepreneur. They're both into fitness and the idea for His and Her bar came to Jennifer while the couple was out on a run together.
She wanted to create a nutritional snack that also "spiced up" their sex drives. They came up with a bar that has zero fillers and is vegan, gluten free and non-GMO. Each bar contains maca, cashews, almonds, dates, choclate, vanilla and a pinch of cayenne pepper. What makes the bars "sexy" is the maca, also known as Peruvian Ginseng. For years, the maca root was used to enhance fertility and sex drive while maintaining strength and stamina. They claim their bars are creamy, with just enough sweetness and a little "kick" from the cayenne on the back end.
The couple started experimenting with ingredients in late 2019 and launched in early 2020, during the Covid-19 pandemic. A pack of 12 bars costs $44.28 ($3.69 per bar) or $39.995 for 12 on a minimum three month subscription model. As with any snack food, the key to success is getting into major retail outlets and on the shelves. The Gallaghers are hoping a Shark will help them with that.
Company Information
Video

Posts about His and Her Bar on Shark Tank Blog
His and Her Bar Shark Tank Recap
Jennifer and Michael enter seeking $50,000 for 10% of their business. They explain that they left their jobs and had their house in foreclosure when they started the business. Since they have no sales and the Sharks weren't crazy about the taste they start going out. The Sharks say they should be getting jobs. Lori, Daymond and Barbara go out and Michael starts to get emotional.
After a break, the show returns with Michael crying and getting emotional. He explains how he failed at the fire academy. He decided to try again and he starts having headaches which were caused by a small brain aneurism. Mr. Wonderful lectures them on the failures associated with entrepreneurship. He goes out. Mark says they'll figure it out and build it up bit by bit. He's out too.
His and Her Bar Shark Tank Update
The Shark Tank Blog constantly provides updates and follow-ups about entrepreneurs who have appeared on the Shark Tank TV show. The first re-run of this episode is only 2 months after the original air date. The company is still in business. They were very disappointed in the aftermath of the show, but their social media community gave them a lot of love and support. They also had a huge influx in sales, so much so that it took them weeks to ship everything out. As of December, 2021, they are still up and running. Reliable revenue figures are unavailable.
In February, 2022, they shuttered the company. This message appeared on their Instagram account:
We are grateful for going on Shark Tank last year & have decided to move into another direction with our business ventures.