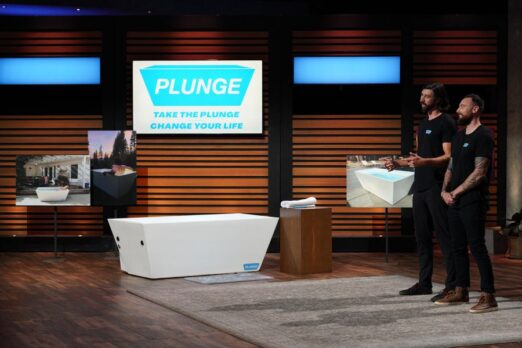 Michael Garret and Ryan Duey hope the Sharks like Plunge, their cold plunging tub, in Shark Tank episode 1322. Cold plunging is the act of getting into cold water to cold shock your body. Cold Shocking has many benefits, including increased energy, resilience and physical recovery. As they say on their website, "plunging into cold water triggers the production of the neurotransmitter norepinephrine, a critical chemical in the body that helps regulate attention, focus, and energy.
Both men own float spas. Michael is the owner of Reboot Float & Cryo Spa and Ryan is the owner of Capitol Floats. Both are located in the San Francisco bay area. When March 2020 rolled around, their businesses were shut down and they had nothing to do. Both men are fans of cold plunging. When Michael was researching cold plunging equipment, he found home plunging spas to be very expensive. With his free time, he set out to make a more affordable option with his father's help. When Ryan came on board, things came together quickly.
The product itself is a large tub with a cooling element and filtration. Users set the temperature to 39 degrees and get their cold plunge on! You can also use it as a hot tub with temperatures up to 103 degrees. Each unit comes with a cover, skimmer, hose filter, cell phone holder, instructional videos and a one year warranty. There are three models: The Plunge is $4999.00, the XL is 3″ taller, 6″ longer, and 1.5" wider than the original and costs $6990.00. Upgrading to the hot and cold option is an extra $1490.00. They also make a commercial grade version for gyms, spas or people who want to use it A LOT. That costs $6490 and comes with a more robust pump and a commercial warranty. They likely want a Shark to help build inventory. Will a Shark take the plunge?
Company Information
Video

Posts about Plunge on Shark Tank Blog
The Plunge Tub – For Cold Therapy
Plunge Shark Tank Recap
Michael and Ryan enter the Shark Tank seeking $1.2 million for a 5% stake in their company. As is typical with high valuations, the Sharks react with a degree of shock. They guys talk about the benefits of cold plunging and talk about how the trend is expanding globally. They invite Robert to take a plunge in a 55 degree tub. He gets in and screams. Mark tells him not to be a wimp as he screams some more. Robert says it's not bad.
Mark says athletes use it to combat inflammation. When Kevin questions the valuation, the guys say they did $4.9 million in sales in one year. The Sharks are impressed. Landed cost is $2400 including shipping and the model on the set sells for $4800. All sales are direct to consumer on their website. Mark is concerned that people will rush to buy it and then it will die off.
Kevin offers $1.2 million for 18%, but he gets immediate distribution. Lori agrees with Mark, she goes out. The guys say they want the Shark's money for inventory. Barbara offers $1.2 million for 20%, half of which would be a loan. Robert offers $2.4 million for 20%, half of which is a loan. Mark offers $1.2 million for 15% then he'll fund purchase orders. They counter Robert at 10% and he says he'll go to 12%. Mark won't budge and they do the deal with Robert.
Plunge Shark Tank Update
The Shark Tank Blog constantly provides updates and follow-ups about entrepreneurs who have appeared on the Shark Tank TV show. The first rerun of this episode in August, 2022, is just three months after the original air date. As of this time, there is no evidence the deal with Robert closed. By February, 2023, the deal with Robert has not closed. Reliable revenue figures are unavailable at this time.
The Shark Tank Blog will follow-up on Plunge & Michael Garret and Ryan Duey  as more details become available.