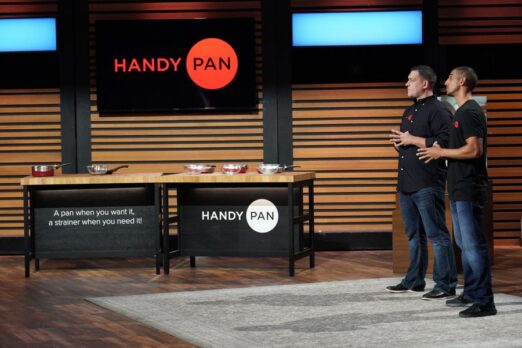 Josh Conway and Adam Chaudry seek an investor for Handy Pan, their pan that's also a strainer, in Shark Tank episode 1322. The Handy Pan guys are childhood friends who are both employed outside of their entrepreneurial venture. Josh is a Realtor and the GM of a strategic technologies company and Adam is a lawyer – but he always had a passion for inventing things. One day, they were chatting on Josh's back deck and they came up with the idea for their product. They sketched a design on a napkin and started looking into ways to get it made.
The guys tried to raise money on Kickstarter back in 2018, but they fell short of their goal. To get it built, they enlisted the help of Priority Designs, a full-service product development consulting group that's helped Fortune 500 companies and small businesses design products and bring them to market. While they didn't get funded, they still manufactured their product.
The Handy Pan itself is a non-stick ceramic pan with a stainless steel, food grade strainer attached to it with a hinge mechanism. On the pan's handle is a button that flips up the strainer above the rim of the pan. This lets you safely strain grease, water or any other liquids without a separate piece of kitchen equipment. The pan is available on the company website for $29.99 with free shipping. The guys likely want a Shark's help with manufacturing and marketing.
Company Information
Video

Posts about Handy Pan on Shark Tank Blog
The Handy Pan – Pan + Strainer
Handy Pan Shark Tank Recap
Josh and Adam enter the Shark Tank seeking $10,000 for 20% equity in their business. The guys demonstrate other methods of straining pans, then they demonstrate the Handy Pan. As the Sharks examine their samples, Robert wants to know why they are looking for just $10,000. They say they wanted to come in with a number that wouldn't be an obstacle to a deal. After a limited production run, they have a little over $7900 in sales.
Barbara wants to know why they have such low sales. It cost them $11.40 to make on a limited production run and it sells for $29. Lori wants to know what they did wrong. They struggled with online marketing as it's not their forte. Kevin says nobody cares about the product. They spent $550 on advertising for their sales. They aren't on Amazon either.
Lori says they didn't have good marketing. They have three patents and one patent pending. Robert says he can't get over how they haven't made it happen in three years. Lori says she'll give them the $10,000 for 20% because she has nothing to lose. They do the deal.
Handy Pan Shark Tank Update
The Shark Tank Blog constantly provides updates and follow-ups about entrepreneurs who have appeared on the Shark Tank TV show. In the immediate aftermath of the original air date, the company completely sold out of inventory. On show night, Lori asked fans on Twitter if they'd buy this product and 72.3% said yes. The first rerun of this episode in August, 2022, is just three months after the original air date. As of this time, there is no evidence the deal with Lori closed. At this time, they are still sold out of pans. They finally got more pans in stock, just in time for the re-run!