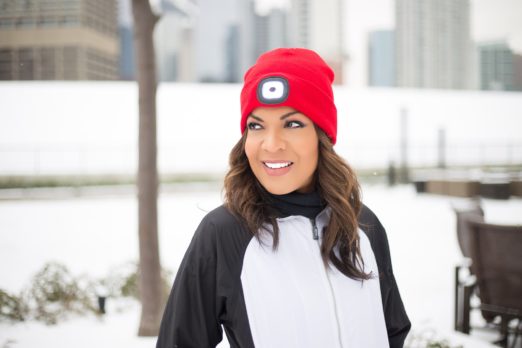 Racquel Graham seeks a Shark for Roq Innovation, her company that sells innovative hats, scarves and headbands, in Shark Tank episode 1309. She got her MBA in marketing from Northwestern in 2009 while balancing a career and motherhood. In 2014, she launched her first product called Nekz. They're a scarf alternative she created because her kids hated scarves. In 2017, she launched Headlightz Beanies – wool caps with a literal headlight. Lighted headbands and gloves soon followed.
The company mission is to "develop, solve and invent solutions daily to meet the needs of our families." Her products made Oprah's Favorite Things list in 2019 and 2021 and Martha Stewart's "American Made" in 2016. She's no stranger to TV either: she's been on Good Morning America, the View and has had multiple appearances on the Home Shopping Network. When she's not running her business or making TV appearances, Raquel mentors students at Girls, Inc. of Chicago, an organization "where girls gain the skills and knowledge they need to succeed."
The caps are good for walking or running at night. They come in a wide variety of colors including tie dye. Caps are $29,99, scarves are $40 and come in "faux fur." Headbands are $24.99 and the "glove lights" are $14.99. She has sales – in 2019 they were $1.9 million – but the Covid-19 pandemic closed her factory and nearly shut her down. She got by by making facemasks for the pandemic. Now she's looking to get back to 2019 levels and more, with a Shark's help.
Company Information
Video

Posts about Roq Innovation on Shark Tank Blog
Roq Innovation – Headlightz Caps
Roq Innovation Shark Tank Recap
Racquel enters the Shark Tank seeking $200,000 for 15% of her company. She talks about the need for hands free lights at night. She pulls out a Headlightz cap and asks the Sharks to try their samples. Lori says it's bright. Daymond puts his on sideways. She sells on HSN. Lifetime sales is $2.4 million. She did $1.4 in Headlightz last year and predicts $1.7 in sales for this year (2021). She sells them for $14.99-$24.99 on her website and Amazon. Raquel tells the Sharks about the "O List" and Good Morning America. She typically does $25,000 to $40,000 on HSN.
Raquel is having trouble following along. Mr. Wonderful  wants to know if she has key man insurance. Her patent is pending since 2018. Peter says she's all over the place. He says she needs a super charged entrepreneur to help her. Kevin says he's going to make her an offer. He's says she has crazy chicken energy. He offers $200,000 for a $2 per hat royalty until he gets his money back, then the royalty drops to $1 in perpetuity.
She got very sick in the summer of 2016 with fungal pneumonia which caused her to have a stroke. She launched just after her illness. While getting teared up telling her story, she says she was offended by the crazy chicken comment. Daymond says Kevin says that out of admiration, not to be offensive. Peter is impressed with her. He says he can help her sell it all over the world.
After a break, Peter offers $200,000 for 25% of the business. Raquel says she's not a fan of royalties. Lori says she did something similar so she's out. Mark says he doesn't think he can add value, he's out. Daymond thinks someone will come after her patent, he's out. Peter says he's blown away by Raquel and tells how he lost everything at age 28. He says he'll let Mr. Wonderful in on the deal. Kevin and Peter go back and forth and Raquel appears lost. They offer $200,000 for 20% plus a one dollar per unit royalty until they recoup $600,000. Raquel says "deal."
Roq Innovation Shark Tank Update
The Shark Tank Blog constantly provides updates and follow-ups about entrepreneurs who have appeared on the Shark Tank TV show. As of the first rerun of this episode in June, 2022, there is no evidence this deal closed. It's only about five months since the original air date, so they could still be in due diligence. Raquel hit her $1.7 million sales goal for 2021, so she might not need the Sharks' money.