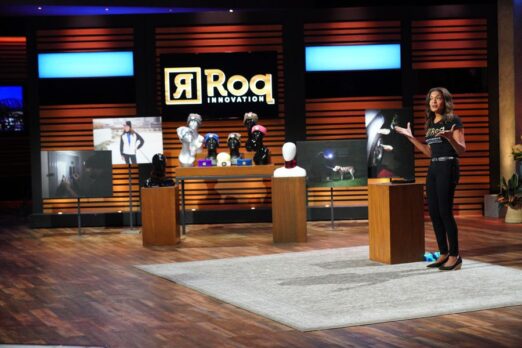 Raquel Graham started Roq Innovations because her kids wouldn't wear their scarves in the winter. She sewed together what looks like a plush buff and a business was born. That product is called Nekz and she eventually brought it to the Home Shopping Network where they sold out in about an hour. That led her to be invited back. In fact she's done many appearances on HSN which led to developing more products. She's also been featured on The View and Good Morning America.
The next product she developed was HeadLightz, wool caps with a rechargeable LRD head light on it. It's great for walking or running at night in cold climates. In 2019 the HeadLightz were named as one of Oprah's "favorite things." In addition, she developed the Headlightz Headband, Handlightz, and, for the Covid-19 pandemic, Face Maskz. Things were going great for Raquel. Roq did $1.9 million in sales in 2019, then came 2020 and the Covid-19 pandemic.
Her factory in China shut down and she was without inventory for the better part of 2020. When it finally opened back up, the supply chain was still screwed up. It was still difficult – but not impossible –  to get inventory. 2021 saw her clawing her way back to profitability and, of course, taping an episode of Shark Tank. We'll likely hear the story of her troubles when she appears in episode 1309. She's likely looking for a Shark to help get her back to pre-pandemic sales levels.
My Take on Roq Innovations
As a resident of Florida, wool caps aren't my thing, but the headlight concept is solid. I have a headband with an LED headlight on it for night fishing. It isn't from Roq, but it's a similar concept. Raquels's products tend to be a lot more fashionable than my utilitarian fishing headband, bet I'm sure they work just as well.
If I still lived in the frozen north, I'd probably get one of these. When I showed it to my wife for reaction (a common occurrence), she said we ought to get them for our brothers next Christmas. At only $30 for the caps, it's a nice, inexpensive gift. I'm in.
Will Sharks see the Lightz and Invest?
Since Raquel has strong sales in the past, she should get some nibbles from the Sharks, provided her valuation is in line. The valuation could become a problem if the Sharks latch on to the 2020 sales figures. That said, I think she'll field some offers.
Mark will likely pass as it's a clothing company which he typically doesn't get involved with. I have no idea about Peter Jones. Mr. Wonderful could throw out a royalty based offer, but it's Daymond and Lori who can provide Raquel with the most value.
Roq's past success on HSN could spark Lori's interest if she thinks it's a "hero."  Daymond has the resources a company like Roq could benefit from. I think we'll see offers from Daymond and Lori – possibly even a deal with one (or both) of them.