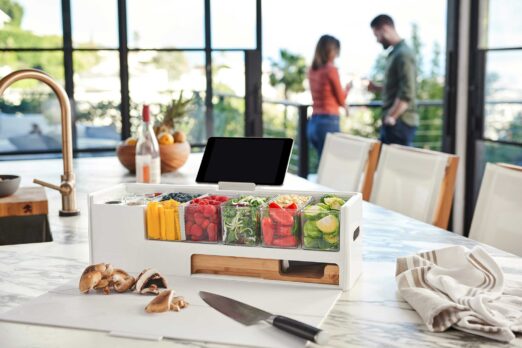 Alexander Eburne introduces the Sharks to PrepDeck, his kitchen organizing system that keeps all your kitchen tools in one place, in Shark Tank episode 1320. He always did a lot of cooking, but his wife cleaned up. After having a child, that arrangement stopped and Alexander realized what a mess he made. He also got frustrated getting all his kitchen tools in one place. When he learned of the French concept Mis en place (everything in its place), he set out to create a system that had all the things you need to cook a meal in one place. PrepDeckwas born.
Eburne, who has a background in marketing, started the business in July, 2018 with a wildly successful IndieGoGo campaign that raised $359,602 on a modest $25,000 goal. He delivered finished products to backers about a year later. Since then, he's sold over 150,000 units and was named Amazon's 2021 Innovator of the Year.
The main product is the PrepDeck, a box that is anti bacterial, dishwasher safe and includes 15 storage containers and a bunch of kitchen tools like a cheese grater that fit right on to the containers. The cutting board folds out and there's a storage tray you can use to store knives and utensils that doubles as a waste container. There are other accessories like a spice rack, utensils, measuring spoons and cheat sheets – oven safe, non-stick silicone dividers that allow you to put multiple foods on one oven baking pan. He also sells Souper Cubes. The Prep Deck costs $129 and the other items vary in price. With claims of over 150,000 units sold, he has around $19 million in lifetime sales. Why does he even need a Shark?
Company Information
Video

Posts about PrepDeck on Shark Tank Blog
PrepDeck Shark Tank Recap
Alexander enters the Shark Tank seeking $750,000 for 7.5% equity in his business. As he explains prep work, his wife is cutting stuff up on a cluttered counter. When Alexander says "there has to be a better way," she dumps everything on the floor and pulls out a Prep Deck. He says the product will organize the kitchen as the woman begins prep work with the Prep Deck, he explains the features. Next, the Sharks examine their samples.
The product sells for between $99 to $119 depending on the configuration. Alexander tells the Sharks about the IndieGoGo success. In 2019,  he did $1 million in revenue. 2020 sales were $6.2 million. In 2021, he expects to do over $10 million. 99% of the sales are through his website or Amazon. In 2020, they spent 25% of revenue on customer acquisition. The product cost $31 and the landed gross margin is 69%. In 2020 their net profit was $525,000.
He'll use $250,000 of the Shark's money for inventory, $250,000 for product development and $250,000 to build a team. Barbara says she loves to cook but she's not a plastic chopping board type of girl; she's out. Kevin offers a $750,000 loan at 9.5% for 36 months for 5% of the company plus he'll put the full power of "chef Wonderful" behind the business. Daniel says he doesn't understand this type of business; he's out. Mark echoes Daniel's sentiment; he's out. Lori isn't comfortable with the  valuation; she's out.
Kevin pushes his chef Wonderful persona. Alexander counters with $750,000 for 9% interest with interest only payments for 3%. Kevin says no. Alexander declines Kevin's offer.
PrepDeck Shark Tank Update
The Shark Tank Blog constantly provides updates and follow-ups about entrepreneurs who have appeared on the Shark Tank TV show. Prep Deck won the Amazon Launchpad Innovation Grant and the Innovator of the Year award in 2021.  2021 sales did exceed $10 million. The Shark Tank Blog will follow-up on PrepDeck & Alexander Eburne as more details become available.