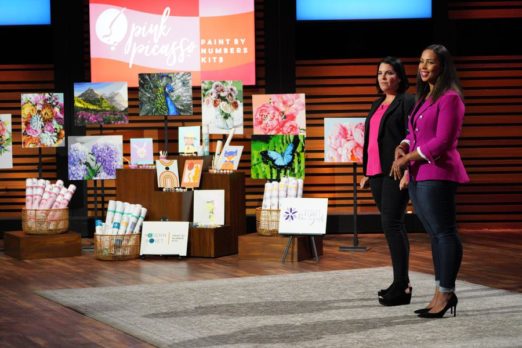 Wives Ashley and Brittany Silfies hope to craft a deal with a Shark for Pink Picasso, their upscale paint by numbers kits, in Shark Tank episode 1310. The pair has two other paint by numbers businesses too: Modern Monet and Wear Your Sole. Brittany is a former lab tech and Ashley is a former procurement manager. They started their paint by numbers business in January, 2019 and the kits became one of Oprah's favorite things.
A few years ago, adult coloring books were all the rage. Paint by numbers gained popularity during the 2020 Covid-19 pandemic lockdowns and a growing number of businesses are offering them. Both Modern Monet and Pink Picasso offer complete paint by number kits for $42. Each kit contains a photograph, numbered paints and a canvas printed with the numbers on it. Simply match the paint numbers to the number on the canvas and eventually you'll have a painted replica of the photograph. They also include a number "map" in case you paint over something.
Pink Picasso has floral painting kits, a "mid century modern" collection and kits for kids for just $28. Modern Monet has objects, landscapes. The finished products look as if the artist put their flair on the painting. Their painting kits are available at hundreds of independent arts and crafts stores nationwide, on the company website and on Amazon. The women likely want a Sharks help getting into big box retail. Will a Shark craft an artful deal for this business?
Company Information
Posts About Pink Picasso on Shark Tank Blog
Pink Picasso Kits – Paint by Numbers for Grown Ups
Pink Picasso Shark Tank Recap
Ashley and Brittany enter seeking $00,000 for 5% of their business. They talk about what comes in each kit. They say it's a modern day craft people can be proud of. Lori says they're beautiful. Everyone likes puzzles and this is a more space friendly type of activity because you don't have to leave it out. The women go on to explain how their feelings for each other evolved and they divorced their husbands and got married.
They say they blew up their lives and started the business to maintain a lifestyle. Ashley took her skills and manufacturing and created the concept. They did everything by hand with their kids as helpers until a few months ago. With just a $1500 investment, 2019 sales were $1.3 million after being mentioned as one of Oprah's favorite things. 2020 sales were $3.5 million. An adult kit costs $3.77 ($4 landed), wholesales for $19 and retails for $42. The Sharks love the margins. They expect $5 million in sales for 2021 and say they profited $900,000 in 2020.
The ladies say they need a mentor to help them get into big box retail. They're in 2100 boutiques but don't know how to do big box. They also want to do licensing with brands like Disney. Kevin offers $400,000 for 33.3% and says he wants to share in the distributions. Lori likes the women, she likes the look of the product too. She like the creative aspect too. Lori and Daniel offer $400,000 for 20% of the company. Barbara offers some financial advice about how she almost sold 50% of her business. Barbara thinks they don't need a Shark, she's out. Lori disagrees with Barbara and says they need to race faster. Mark says "don't sell yourself short, you are CRUSHING IT!" Mark's out.
After a break, Barbara comes back in and offers $400,000 as a loan at 8% interest for 5% of the business. Daniel says before offering the deal with Lori, he was going to offer $400,000 for 10%, but thinks having 2 Sharks is a better value at 20%. Kevin modifies his offer at $400,000 for 3% plus a $6 royalty per unit. Mark says Barbara has the best deal. The women counter Lori and Daniel at $400,000 for 15% and they do the deal!  As they exchange hugs on stage, Mark reveals a painting he was doing during the segment and it really looks good.
Pink Picasso Shark Tank Update
The Shark Tank Blog constantly provides updates and follow-ups about entrepreneurs who have appeared on the Shark Tank TV show. On the night of the original air date, Daniel Lubetzky tweeted:
"After two seasons of trying to partner with @LoriGreiner and @kevinolearytv stealing the deal on multiple occasions, this win feels especially sweet. Super excited to finally partner with Lori on Pink Picasso #SharkTank"
The deal with Lori and Daniel did not close. Ashley is cagey publicly about how much sales they did to close 2021, but she says she expects 2022 sales to grow by 25%. The company also came out with new kits called Violet Van Gogh. In addition to their website, they can be found in over 2000 art supply shops nationwide and on Amazon. As of April, 2023, the business is doing $5 million in annual revenue.
This page will be updated as new information on Ashley and Brittany Silfies & Pink Picasso becomes available.