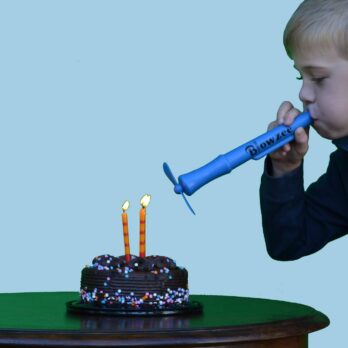 Mark Apelt and Mark Lareau seek an investor for The Blowzee, a spit free way to blow out birthday candles, in Shark Tank episode 1314. They first thought of needing a device while at a kid's birthday party in January, 2020. When it came time to blow out the candles, the sun light was just right that het and other parents could see the spittle landing on the birthday cake. They were pretty grossed out. The two Marks went looking for a creative tool to prevent the spit from flying, but they couldn't find one.
Then the Covid-19 pandemic hit. He and his "silent partner" had a lot of time to think about creating a tool to blow out candles. With the pandemic, there was a compelling reason to as well. During the pandemic, people resorted to fanning the candles out or taking them off the cake one by one and blowing them out. Now, none of those things will be necessary. Mark and Mark each invested $5000 into the business and it took them 17 prototypes to get it right.
The Blowzee is a tube with a fan on the end. When you blow in the tube, it activates a sensor which turns on the fan. The air being blown into the tube is redirected back at the person blowing on it. They cost $11.99 and come in any color you want, as long as it's blue. The business attracted the attention of the New York Post in May, 2021. The night after the story came out, Jimmy Fallon mentioned it on his show and things blew up. The two Marks likely want a Shark to help blow it up even further.
Company Information
Video

Posts about The Blowzee on Shark Tank Blog
Blowzee Blows Out Candles for You
The Blowzee Shark Tank Recap
Mark and Mark enter the  Shark Tank seeking $100,000 for 20% of their company. One of the Marks blows out the candles on a cake they brought very moistly and the Sharks are disgusted when he asks "Who wants a slice?" They say they always thought it was gross blowing out candles on a cake. Science shows it increases bacteria on the cake by 1400%. They demonstrate the Blowzee on another cake. The Sharks seem amused.
The Sharks try their Blowzees and they think it's cool. Daymond wishes he had one when he was a kid. They tell how they were inspired to invent it. They filed a utility patent. Wholesale is $6, retail is $11.99 and it costs $3.20 landed. In 5 months, they have 12,000 units sold and they made $12,000. The Sharks don't like the numbers. The Marks say they are bad marketers.
Robert likes it but he wants to know if there are other products in the pipeline. They say there's an opportunity to customize it with licensing. They are predominantly selling online using PR to market it. Kevin says he  hate this and he's out. MArk says the two Marks are what Shark Tank is all about. He says they're a company not a product, he's out. Daymond says it's not investable, he's out. Robert says he'd buy one, once; he's out. Lori says it's a smart product, but she's out too.
The Blowzee Shark Tank Update
The Shark Tank Blog constantly provides updates and follow-ups about entrepreneurs who have appeared on the Shark Tank TV show. While the guys did not get a deal, they sold out of all their inventory in 2.5 hours after their segment aired. Mark Lareau told The Roanoke Times: "This was huge. It essentially was the equivalent of a multi-million dollar ad campaign," he said. "It opens up a whole new set of options. This thing started as a little adventure hobby by two friends and we are astounded and humbled that it went this far. We're just excited to see where it goes next."
In April, 2023, the website is down and the products are"currently unavailable" on Amazon. This business could be done.