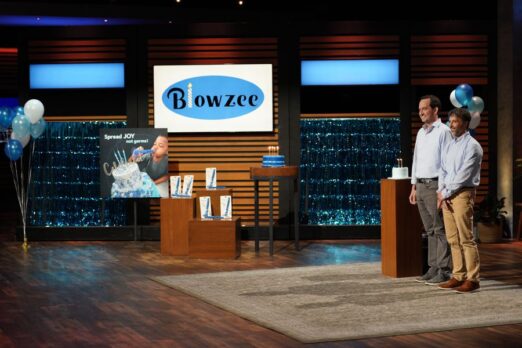 Mark Apelt and Mark Lareau first got the idea for Blowzee in January, 2020. They were attending a child's birthday party and the guest of honor wasn't feeling well. The kid was coughing and congested. When the time came to blow out the candles, he blew spit and snot onto the cake. Needless to say, everyone was grossed out. The two Marks got to talking and wondered if there was a way to blow out candles without blowing snot all over the place. They soon realized there wasn't.
Like any good entrepreneurially minded guys, they set out to create their own solution. The result was Blowzee. It is about the size of a recorder. It's a tube with a fan on the end of it. When you blow into it, it activates a sensor which turns on the fan which blows out the candle. The actual air being blown is redirected back toward the blower so no oral debris gets on the cake. Kids absolutely love it.
They originally designed it on a 3D printer and it took them nearly 20 times to get it right. The Blowzee became a viral sensation when The New York Post and Jimmy Fallon gave them a shout out in May, 2021. The guys had trouble keeping up with demand for the product which sells for $11.99. This also what caused them to get on Shark Tank. The two Marks want a Shark's help with inventory. Will a Shark help blow up this company?
My Take on Blowzee
As a father of five, I've seen my share of birthday parties. When my son was little, he was extremely bad at blowing out candles. When it was time to do it, he often sprayed. It was disgusting, but we ate the cake anyway. With Covid-19 taking center stage the past two years, this type of thing could be deadly! I can see why they wanted to invent it.
As for me, I think it's a fun idea. For twelve bucks, why not have one hanging around the house? I'd like to see more color choices (it only comes in blue), but I still may pick one up before our family's spring birthday season. I will make sure to wipe it down with alcohol after each use. I am in.
Will Sharks Blow Some of Their Ca$h?
This could face the "product not a company" objection – most likely from Mark. As for Daymond, if he sees a licensing opportunity he could make an offer. Robert usually doesn't go for novelty items, so I don't expect an offer from him. That leave Lori and Mr. Wonderful.
Kevin could see this as one of his "rubber chicken products." If he does, expect a royalty intensive offer. As for Lori, this fits her "hero" profile: it's easily demonstrated, moderately priced and has mass appeal. It would sell well on QVC. If she likes it, she'll make an offer.