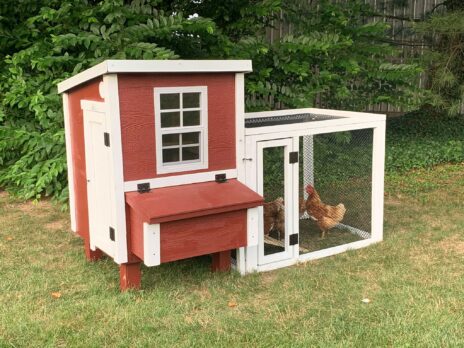 Chet Beiler hopes to get a Shark to invest in OverEZ Chicken Coop, his ready-to-assemble backyard chicken coop kits, in Shark Tank episode 1314. The kits are designed with simplicity and longevity in mind. They're meant to last without breaking the bank. Most of the kits available to the public are manufactured overseas and tend to be flimsy. High end chicken coops are very expensive, bulky and hard to ship. OverEZ Chicken Coops hit that sweet spot right in the middle. Because you have to assemble them yourself (it takes 30-60 minutes), they ship flat which saves money.
Bleir is no stranger to selling structures. His other business, Amish Country Gazebos, is one of the largest gazebo manufacturers in the world. Chet didn't Start OverEZ Chicken Coop, he acquired it in 2020 from the people who ran it in Colorado. The Covid-19 pandemic drove his decision to purchase the company. He found out more people were looking to raise backyard chickens to have more self reliance. It's a trend he sees growing. In addition to coops, the company sells chicken runs, chicken waterers and feeders, heating, lights and other chicken husbandry items. They also sell sheds in a box.
The kits are available at hundreds of stores all over the USA including Tractor Supply, ACE Hardware, Amazon and many more. The small coop in a box sells for $1199.00. Larger coops, obviously, cost more. Beiler is specifically in the Tank because he has expansion plans. He wants to crack the European market and he wants a Shark's help. Will a Shark like this chicken business?
Company Information
Video

Posts about OverEZ Chicken Coop on Shark Tank Blog
OverEZ Chicken Coop Shark Tank Recap
Chet enters holding a live chicken named Chuckles and he puts it in a coop. He talks about how backyard chickens are becoming popular. Next, he tells the Sharks he can hardly keep up with demand. He wants $1 million for 4% of the company. The company is on a path to be the category king and he talks about going to Europe.
Sales are $21 million lifetime and $9 million year to date (summer of 2021). That gives him $1.35 million in profit. Earnings would have been more, but supply chain issues and the cost of lumber ate into profits. They couldn't keep enough inventory. In 2020 they did $6.8 million in sales with 12% profits. Chet is here to raise money for inventory.
Chet tells them how he bought the company. Sales in 2019 were $2.2 million, 2020 was $6.8 million and in 2021 he expects to do $20 million. He financed the business with purchase order financing. The large coop is $1899, the medium is $1499 and the small is $1099. Profit margins are 36%. He says he could have done $10 million in 2020 with inventory. He has factories in Georgia, Pennsylvania and Colorado.
Lori wants to know why Europeans would want his coops. He says what's available there are cheap imports. Lori says quality isn't the only selling point, she's out. Robert asks the life span of a chicken. Chet says it's 5-10 years and Robert thinks it will take that long to figure out the business, he's out. Kevin loves revenue, he offers $1 million in debt at 11.5% for 4% equity. Mark says he's cash constrained and building a factory in Europe is expensive, he's out. Daymond says material cost is a problem. Daymond offers $1 million for 25%.
The pitch starts to spiral out of control as Chet keeps pitching Robert and Daymond begs him not to. Chet says he's flying to Prague next week. Kevin says he should focus on the offers. Chet asks Mr. Wonderful if he'd do more purchase order financing, and Kevin says he would. Daymond says he's too distracted and he goes out. Chet says he'll do the deal with Mr. Wonderful, but Chet continues to pitch Robert and Kevin goes out.
OverEZ Chicken Coop Shark Tank Update
The Shark Tank Blog constantly provides updates and follow-ups about entrepreneurs who have appeared on the Shark Tank TV show. The company finished 2021 with around $19 million in sales. The Shark Tank Blog will follow-up on OverEZ Chicken Coop & Chet Beiler as more details become available.