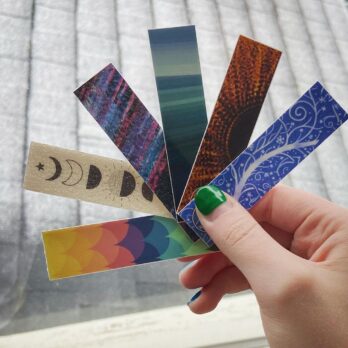 Michael Malkin and Luce Fuller pitch Calm Strips, their tactile calming device, in Shark Tank episode 1314. Michael invented the product because he used to get anxiety when it got busy the Apple Store he managed. He'd drum his fingers and even put painter's tape on his fingers to scrape together. This worked, but his fingers got too sticky. He wanted something like a fidget spinner, but more discreet.
What he came up with is Calm Strips. They're literally strips with either a sandy or "river rock" texture. Rubbing them is a tactile calming exercise. Tactile calming devices aren't new, this is just a different kind. The strips can be adhered to a phone, worn on a key chain or lanyard or just put in your pocket or purse. Whenever you need to chill, just rub the Calm Strip until you're relaxed.
They come in packs of five for $12.99 in a wide variety of colors and patterns. They also sell classroom packs of 30 for $49.99 or school packs of 120 for $119.99. The strips are in use in over 3000 classrooms in the USA. They're made of thin but extremely hardy and durable vinyl. In May, 2021, they introduced circular strips that stick to phones, computers or any other surface you want to put them on. After launching the business from his home in April, 2020, he's grown into an office with 5 employees. With over 100,000 customers, his business really took off fast. He likely wants a Shark's help with marketing and managing growth.
Company Information
Video

Posts about Calm Strips on Shark Tank Blog
The Calm Strip – Fidget Strips
Calm Strips Shark Tank Recap
Michael and Luce enter the Shark Tank seeking $250,000 for 10% of their business. They talk about anxiety and how Calm Strips help calm and ground people. They say how they can stick to anything and help manage restless energy. The Sharks are rubbing at their samples and Michael tells how he came to invent the product. He talks about how sensory touch produces a calming effect.
Daymond doesn't get it. Luce says they have over 100,000 people who do get it and their return rate is less than 1%. A five pack costs of the soft sand texture costs $1 to make and the river rock texture costs $2; they sell for $12.99. Since launch they did $2.5 million in sales. Kevin loves it! They offer a full refund without returning the product, so they know their return rate is a solid number. In 2020, their profits were $193,000. Summer is a little slow for them because school's aren't in session.
Robert understands the concept. Michael says 45 million Americans suffer from anxiety. His son is autistic and he says he's in the business to help people. Daymond likes the numbers, but he doesn't get it; he's out. Mark doesn't think they can scale; he's out. Robert isn't sure it's not a fad, but he offers $250,000 for $35%. Kevin offers a $2.50 per unit until he gets his money back plus $1 per unit in perpetuity. Robert counters with $2.50 per unit until he gets his money back, then $1.50 per unit until he nets $750,000. Michael asks Lori if she's in and Robert goes out. Lori says she'd do the same deal as Kevin but she also wants 8% equity. Next, Michael asks Robert if he'd do $250,000 for 20% equity and Robert says no. They ask if he'll do his original deal and they team up with Robert.
Calm Strips Shark Tank Update
The Shark Tank Blog constantly provides updates and follow-ups about entrepreneurs who have appeared on the Shark Tank TV show. In the immediate aftermath of the show, the company was overwhelmed with sales. By February, 2022, they were in over 30 mom and pop retailers. By October, 2022, they have the product online at Wal Mart. By April, 2023, they were in 75 "mom and pop" retailers in the USA. In November, 2023, they upped their retail presence to 240 stores. Annual revenue at this time is a little over $1 million.
The Shark Tank Blog will follow-up on Calm Strips & Michael Malkin and Luce Fuller  as more details become available.