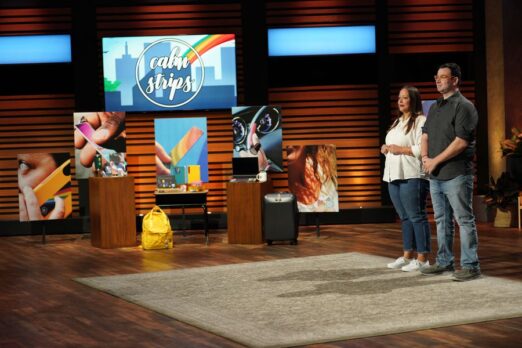 Michael Malkin invented The Calm Strip as a fidget device. When he got stressed at work, he'd frantically drum his fingers to relieve the stress. When someone suggested putting tape on his fingers and rub them together, it worked. The tactile sensation of the roughness of the tape soothed his tension, but it made his fingers sticky. In order to find a similar solution that was not sticky and a bit more discreet, he created his Calm Strips.
It's a fairly simple concept. The Calm Strip is a small, rectangular piece of heavy duty vinyl that's textured. You can put it in your pocket, on a keychain or a lanyard. They come in a huge array of colors and patterns. When you feel the need to fidget, simply rub it between your finger and thumb. They have a "sandy" textured and a "river rock" textured version.
Michael and his team have taken the Calm Strip a long way in a short time. He started the business in his home in April, 2020 and has well over 100,000 customers, including over 3000 schools. Schools like Calm Strips because they're an easy, unobtrusive way for kids to get a calming tactile stimulus in the class room. Fast forward to January, 2022 and Michael's on Shark Tank with business partner Luce Fuller. They aren't in Michael's house either; they're in an office with 5 employees. They want a Shark's help taking the business to the next level.
My Take on The Calm Strip
A few years ago, fidget spinners were all the rage. I probably have a dozen of them. They were a popular giveaway at trade shows – I never bought one. To this day, I fidget with one every day. Most schools banned them however. They were distracting and potentially dangerous. Still schools need to provide calming tactile activities or objects. I remember when my kids were in elementary school, they had gel seat cushions so kids could quietly "bounce" in their chairs to let nervous energy out.
Calm Strips fit the bill too. They don't make noise, they aren't going to hurt you if someone throws one at you and you don't have to pay attention to them to use it. All my kids are well over the fidgety stage, but my son was like a Tasmanian devil when he was little. He was that kid who was constantly fidgeting. He used to carry a small hair brush to brush his hands with to get calming tactile stimulus. Calm Strips would have been perfect for him. I'm in.
Will Sharks Remain Calm and Invest?
The numbers will dictate whether they get a deal or not. I'm not sure who goes for this, if anyone does. Both Mr. Wonderful and Daymond have dyslexia. One of my oldest friends has dyslexia and when we were kids, he would be fidgety in school. He used to wear a rubber band on his wrist to twirl around. Dyslexia and fidgeting are somewhat co-related as people with dyslexia are easily distracted, especially when young. That could prompt them to identify with the issue Calm Strips solves and lead to an offer. As for the other Sharks, your guess is as good as mine.