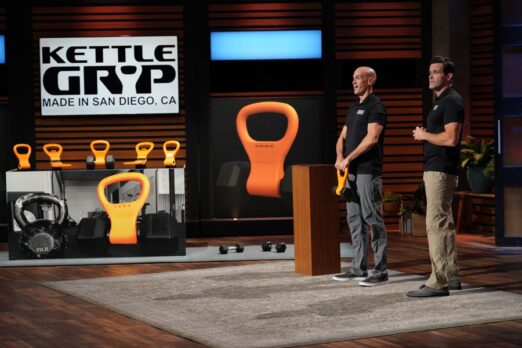 Daniel Sheppard and Andrew Martin invented The Kettle Gryp to save space and money. If you ever worked out with free weights, you know about the difference between dumb bells and kettle bells. Kettle bells are usually round weights with a handle on top. The handle places the weight over the weight which allows you to do different kinds of exercises. Dumb bells are your "traditional" weights with the weight on either side of the handle.
The Kettle Gryp is a heavy duty plastic handle that fits over a dumb bell handle. This makes it instantly into a kettle bell. If you lift weights at home like I (sometimes) do, this is a game changer. Now, you don't need to buy kettle bells or have the clutter of different weights. Your dumb bells are now kettle bells. At $39.99, they're cheaper than buying a full set of kettle bells. You can buy them at Wal Mart, Target, Dick's and Amazon.
The guys started the business back in 2016. Daniel used to run a concession business and Andrew is a retired Marine helicopter pilot. Both men are long time friends and fitness enthusiasts. Sale of their Kettle Gryps soared in 2020 during the Covid-19 pandemic shut downs. Gyms in some places in the US were closed for nearly a year, so folks took their workouts home. The product offered a simple, inexpensive way to maximize on home workout equipment. The guys likely need help with manufacturing. Will the Sharks get a grip and invest?
My Take on The Kettle Gryp
For Christmas, 2020, two of our oldest children teamed up to buy us weights and a weight bench. We had cancelled our gym membership due to the pandemic and were getting soft. While we don't lift every night like we used to, they do get use. Our 17 year-old uses the weights too. We do not have kettle bells, just dumb bells and bar bells.
When we went to the gym, we both did lunges and squats with kettle bells. Since bringing it home, we haven't done those exercises. With The Kettle Grip, we could. I am going to get one for my wife for her birthday. I'm in.
Will Sharks Get a Grip?
I don't think Lori will go for this. She usually opts out of fitness products no matter what the deal is. Daymond is also usually reluctant to go for these kind of products. As for the other 3 Sharks, any one of them could make an offer.
Both Robert and Mark are into fitness and could get behind something like this, they may even make offers. The Shark to watch however is Mr. Wonderful. Back in season 7, he invested in PRX Performance, a space saving weight bench and rack system. He could piggyback on their marketing as both businesses share a space saving component to their stories. Look for a royalty offer from Mr. Wonderful.