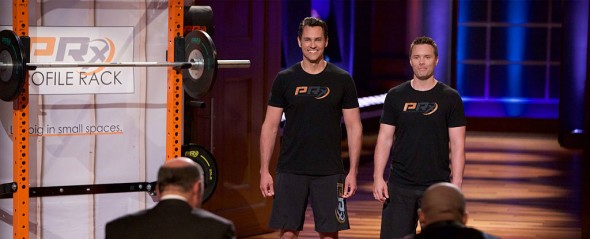 Erik Hopperstad and Brian Brasch pitch the Sharks on PRX Performance, their line of space-saving weight lifting racks, in the Shark Tank "Made in America Special," episode 718. PRX Performance makes weight lifting racks designed to fit into just 4 inches of space in a home or commercial gym. Their motto is "lift big in small spaces." They primarily supply customers in the fitness industry, but their products are readily available on sites like Amazon for people who want heavy-duty weight lifting equipment in their homes without taking up a lot of space.
The guys behind the Fargo, ND based business have some business experience: Brasch is the president of Branick Tools – an automotive supplies manufacturer, and Hopperstad, who founded PRX Performance, is a division manager at Weekes Forest Products. Another partner in the business who doesn't appear onstage, Eric Jorgenson, has a strong background in the sporting goods industry. Like the other businesses in episode 718, all PRX Performance products are made in the USA.
The racks themselves are high quality, extremely strong steel. They mount against a wall and fold out to provide ample room for a wide variety of weight lifting exercises including pull ups, squats, bench press, dead lift, and shoulder presses. When the work out is over, everything folds up and there's storage for all the free weights. They sell their products online at Amazon and at Scheels Sporting Goods in the mid-northern USA.
They likely want a Shark to help with expanding retail distribution. Will a Shark give this business a lift?
PRX Performance Shark Tank Recap
Erik and Brian enter seeking $80K for 10% of their business. They can't believe somebody didn't think of this sooner! They've redesigned traditional weight lifting equipment. Thee PRX system folds out so you can do all sorts of weight lifting exercises. They ask which Shark wants to shake up the fitness space. Erik demonstrates different exercises and how the rack folds up.
Their commercial product is $1099 and the home model is $550. Assembly is the responsibility of the end user and it takes 1-2 hours to install. The competition is encouraging people to fill their garages with equipment, but there are
two companies violating their patent. Lori wants to know if they are fast tracking the patent process.
So far, they've done $170K in sales with 43% margins. Mark says they are doing good for two guys with a business, but they are too early; he's out. Robert loves the fitness business, but he thinks the assembly will scare people – he can't even find a stud in a wall; he's out Lori says she knows how to find a stud, but it's too early for her; she's out.
Daymond says there are two kinds of users – people who buy it and never use it or those who go to a gym he's out.
Kevin likes his wife. He's run into the problem because his wife is putting a gym in his lake house and he likes the solution. He asks how they'd pay him back and they say they projecting 300 units this year with an average price of $700. Kevin offers $80K for 20% and he gets 20% of all sales until he's paid back, plus he'll show them how to sue the patent infringers into the stone age. They do a deal and  Erik and Brian exchange HIGH FIVES in the hall. Mark can't wait to see Kevin come back ripped.
RESULT: DEAL with Mr. Wonderful for $80K for 20%
PRX Performance Shark Tank Update
After accepting an offer from Mr. Wonderful, Erik and Brian quickly found that the Shark Tank effect puts a serious strain on resources. They stepped up to the plate, and visits to their website increased by over 20 times, from approximately 120 hits per day to over 3,000 concurrent viewers from the East Coast alone.
Fortunately, they already had a significant number of units in stock, so they were able to keep up with the sales surge. They found Kevin a supportive and intelligent partner who gave them big boosts in the area of social media management and marketing. The pair project a payoff of Kevin's investment within 18 months.
Going forward, they plan to continue developing their products and building their online presence. With Kevin's continuing help and support, they hope to keep taking up (minimal) space in people's garages and spare rooms, bringing fitness to America one PRX Performance product at a time.
We get an update segment on this business in episode 820.
In 2016, they launched a barbell clip called The Talon on Kickstarter. In August 2018, PRx Performance was number 674 on Inc. 5000's list of the fastest growing private companies in the country with a a three-year revenue growth of 742%. They made the list in 2019 too. In January, 2022, the company introduced a new power rack line called Build Limitless. The new rack allows lifters to grow the size of the rack over time and can be configured five different ways. As of June, 2022, they are still going strong with $9 million in revenue.
Posts About PRX Performance on Shark Tank Blog
PRX Performance Company Information
Video